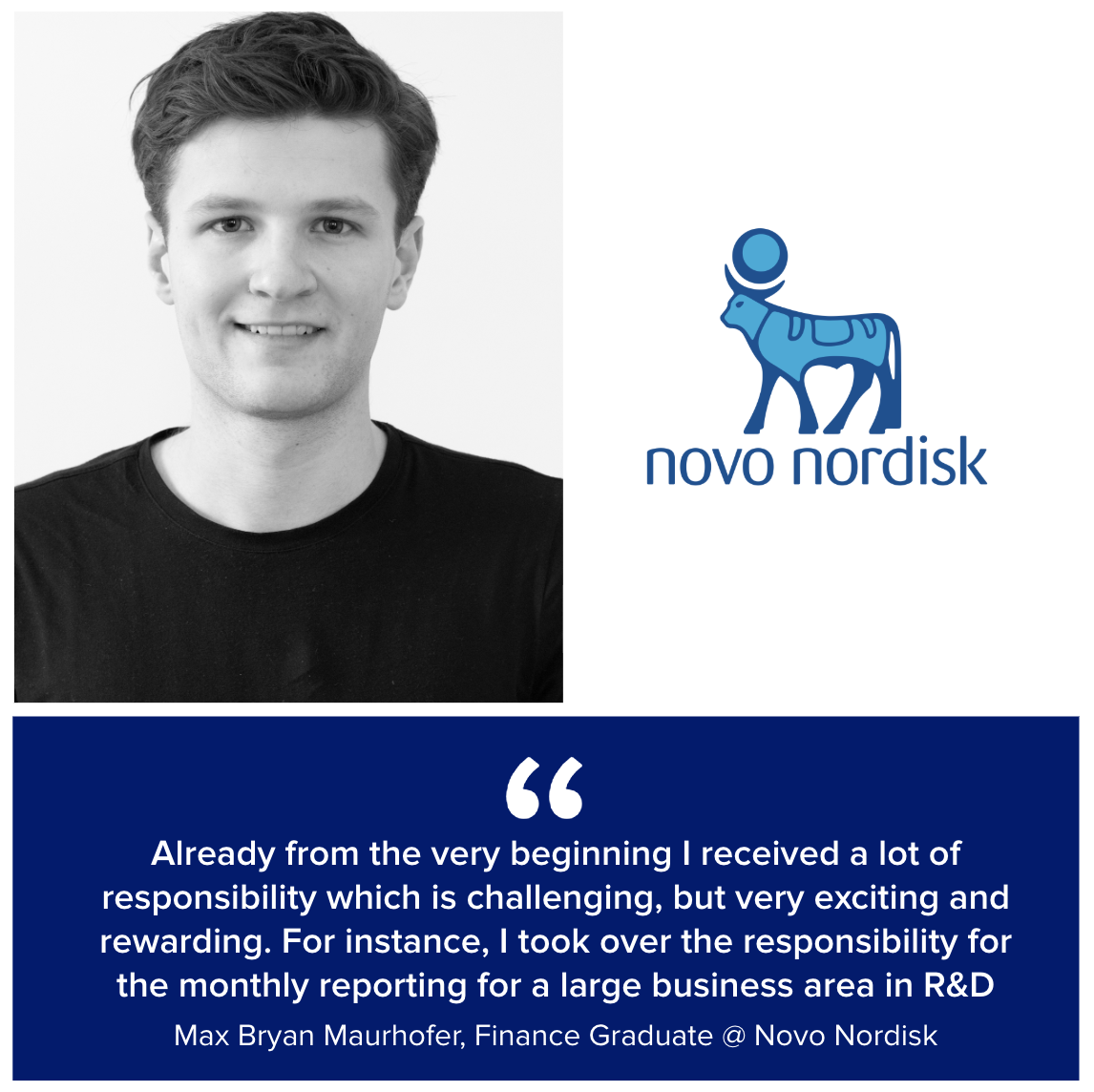 We sat down with Max who just started as a Finance Gradaute in Novo Nordisk – arguably the most prestigious graduate program in Denmark.  Novo Nordisk is a global healthcare company with 95 years of innovation and leadership in diabetes care. Today they are over 40,000 employees and one of the largest pharmaceutical companies in the world. Novo Nordisk is currently recruiting their next batch of talents – have a look at the Finance role here and the full list of Novo Nordisk Graduate Programme tracks here

Why did you choose to apply for the Graduate Program?
"I applied for the Novo Nordisk Graduate Programme, and specifically the Global Finance track, because I was looking for an opportunity to maximize my learning experience and foster my personal development. In my opinion the different rotations fully entail this and further provide me with a holistic understanding of Novo Nordisk´s finance operations. Further, I was excited about the international rotation as it requires me to work and live in a different country and adapt to the local culture. However, in the end it was all the bright colleagues who were full of energy that I met during the application process that made me the most enthusiastic about joining Novo Nordisk."
What has been the top 3 things about the program so far?
"Firstly, the best thing for me about the Programme has been the projects that I have been entrusted with. Already from the very beginning I received a lot of responsibility which is challenging, but very exciting and rewarding. For instance, I took over the responsibility for the monthly reporting for a large business area in R&D. Secondly, I joined a truly great team with which it is also enjoyable to engage in social activities after work which I think is a crucial component for job satisfaction in any position. Finally, I really appreciate all the support we receive from an assigned buddy, an experienced mentor, our programme manager and even high-level executives."
What has been the biggest challenge during the programme?
"The biggest personal challenge for me has been to start working full-time, to settle into Copenhagen and to integrate into a new social environment all at the same time. It was a fast-paced start, but I´m very grateful that we graduates were all in the same position and supported each other during that initial phase."
What's the most important thing to succeed in the program?
"In my opinion it is key to be a fast learner on the one hand, but also to be highly motivated to learn new things on the other hand. I believe that this combination allows you to get as much as possible out of the individual rotations. The graduate programme is not right for everyone, but if you are a curious person and keen to constantly immerse yourself in new environments and work with different people it could be for you. Thus, I believe it´s having the right mindset which is the most important factor to succeed in the program."
Any advice for new applications?
"Show us your personality and motivation to join the programme through the video and the written questions. We receive a lot of great applications where the decision in the end boils down to the authenticity, creativity and distinctiveness of your responses. You can´t alter the past (CV, Transcript), but you can submit an awesome video."
Want to apply for the Novo Nordisk Finance Programme – click here