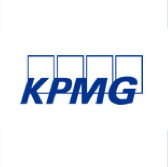 About the programme by KPMG

The KPMG Graduate Programme is a 1-year programme that begins with an onboarding trip welcoming you to KPMG and introducing you to the programme and fellow graduates.
You will have the opportunity to get your hands dirty from day one – where you will be included on projects and asked for your opinion. You will have the chance to develop your network across all of KPMG and the extended graduate network.
Joining KPMG as a graduate provides you with the opportunity to build, develop and implement solutions and at the same time, start your career in a company where people and culture are the top priority. Come as you are and work with colleagues that have each other's backs.
Make your mark – we value proactivity at KPMG, and we do not let your efforts go unnoticed. Together with your Performance Manager, you will have the opportunity to map out specific goals and navigate a path to achieve your dreams and aspirations.
It takes YOU to make KPMG, to do work that matters. Come have some fun with us while we build a stronger future together.
About the programme by Graduateships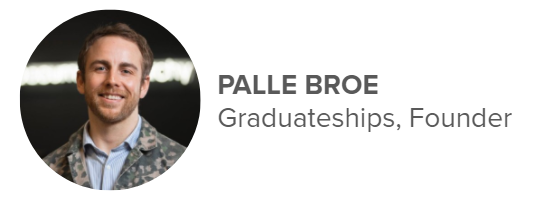 KPMG needs no further introduction. It is one of the largest advisory companies in the world with a long and proud history of fostering business talents.
As one would expect there is hardly a better way to start your career than entering into their graduate programme. You will get to build your "toolbox" amongst world class consultants and work with some of the best clients.
This programme is for graduates who want to continue a career within consulting. This also means that being a graduate at KPMG you will have a steep learning curve with continuous learning, work with local and global clients and spend time in the office as well as on client site.
KPMG offers two graduates programmes: The 1 year graduate programme, focused on generalist consultants and the 1 year audit programme focused on becoming an auditor.
Graduate Programme Facts
Main Location
Copenhagen, Aarhus
Functions
Finance, IT, Operations (Supply chain, Procurement etc.), Project Management, Engineering, Software Engineer, Data / Analytics
Time per Rotation
No rotations
International Rotations
No
Language Requirements
English
---
Applications Open
November 4, 2022
Applications Close
December 31, 2022
Programme Start
September 1, 2023
Our take on the KPMG Graduate Programme
KPMG in Denmark are redefining what it means to be a professional services firm by combining profound insight into Danish and Nordic affairs with global perspectives and by operating across Advisory, Audit and Tax. The company use an agile set-up and a start-up mindset with more than 850 people working together to deliver value to our clients and helping them seize growth opportunities in Denmark and abroad.
The KPMG Graduate Programme will give you the skills and the expertise needed to thrive in a challenging and global environment where you will be working in teams, as well as on your own. It teaches you how to handle responsibility early on, as the KPMG graduates are given responsibility from day one. 
The KPMG Graduate Programme is a 12-month programme available for graduates from business schools and universities, including DTU and ITU. The programme does not include rotations per se, but you will work with a long range of heterogeneous projects within your service line.
The programme is designed to accelerate your learning and development and consists of structured learning events and client project assignments in one or more service lines. You will also be assigned a Performance Manager and a mentor to help guide you and set you on the right course. 
Visit the career page on kpmg.dk to read more about being a graduate at KPMG. Follow KPMG Denmark on Facebook and Instagram to get a behind-the-scenes peek into the life as a graduate at KPMG
Graduate Programme Benefits
Flexibility

Fitness inhouse
Stories from the Inside
The Verdict
What's good
"Been increasingly focusing on innovation and digitalisation through their NewTech"
"Large and well known brand "
"Mix between office and field work"
KPMG Graduate Programme
KPMG operates in 146 countries with over 220.000 employees
Rank:
Company size: 1001-5000
Global: Yes

Graduate programme: Yes
Intern programme: Yes
Website:
Link