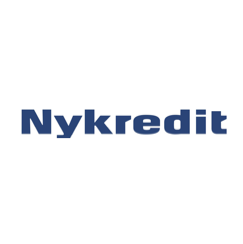 Graduate Programme Facts
Time per rotation
12 Months
International rotations
No
Language requirements
Danish
---
Applications Open
January 17, 2022
Applications Close
April 1, 2022
Programme Start
September 1, 2022
About Nykredit
Nykredit
Nykredit is one of Denmark's leading financial service providers with banking and mortgage lending as core business areas. The banking company focus on new thinking and finding innovative solutions.
As a graduate at Nykredit you are offered the opportunity to kick-start your career. Nykredit reward competence with responsibility and commitment with opportunities. But only if you have top-level competencies and are capable of generating results.
The Nykredit Graduate Programme is a stepping stone for newly graduated and career-minded economists. So, if you have a Master's degree in for instance Economics or Finance and Auditing, and if you are more talented, skilled and ambitious than others in your network, you will be given great challenges at a company that is both attractive and demanding at the same time.
Our take on the Nykredit Graduate Programme
The 12-months graduate programme at Nykredit gives you opportunities to fast-track your career, mainly in the intersection between IT and finance. Nykredit is known to be on the digital frontline within their banking solutions and you can expect to be part of this journey. Nykredit see opportunities in graduates that might come with a different background to the natural choice of a given graduate track. Instead, there is a belief that learning and experience can be gained through the time in the programme and that diversity is beneficial. Hence, you should be open-minded when comparing your background with the graduate opportunities in Nykredit.  
The development of graduates are a cornerstone in the company and you will see specific plans laid out for you and your development from the beginning. When one assess the elements of the programme, it stands out as solid and well-developed. Introduction and on-boarding is a focuspoint, where you will find yourself in social situations as base camps and teambuilding exercises. Although the programme doesn't have any rotations per se, you can expect to visit other departments and subsidies of business, including 1-day practice days, where you are deciding which departments you would like to spend time in. 
All in all, the programme makes the transition into worklife from student life as smooth and exciting as possible. There is no doubt, that graduates coming out on the other side of the programme have the optimal conditions for a great career in the future. Hence, the programme is highly recommended by Graduateships.
Graduate Programme Benefits
Activities for personal and professional development

Courses in IT – Cloud, Microsoft Power BI, SAS etc.
Application Process
1
Screening of Documents
Application, CV, Transcripts
2
Tests
Logical and Personal
3
Assessment Day
Interview and Case
Insights on the Nykredit Graduate Programme
Graduate Progressions (example of roles after the graduate programme)
Graduate -> Senior Specalists  
Graduate -> Managers
The Verdict
What's good
"Flexibility in terms of background and tasks"
"Many social graduate activities "
"Great focus on graduate development"
Nykredit Graduate Programme
Denmarks Leading Financial Services Group
Rank: 3
Company size: 1001-5000
Global: No

Graduate programme: Yes
Intern programme: No
Website:
Link