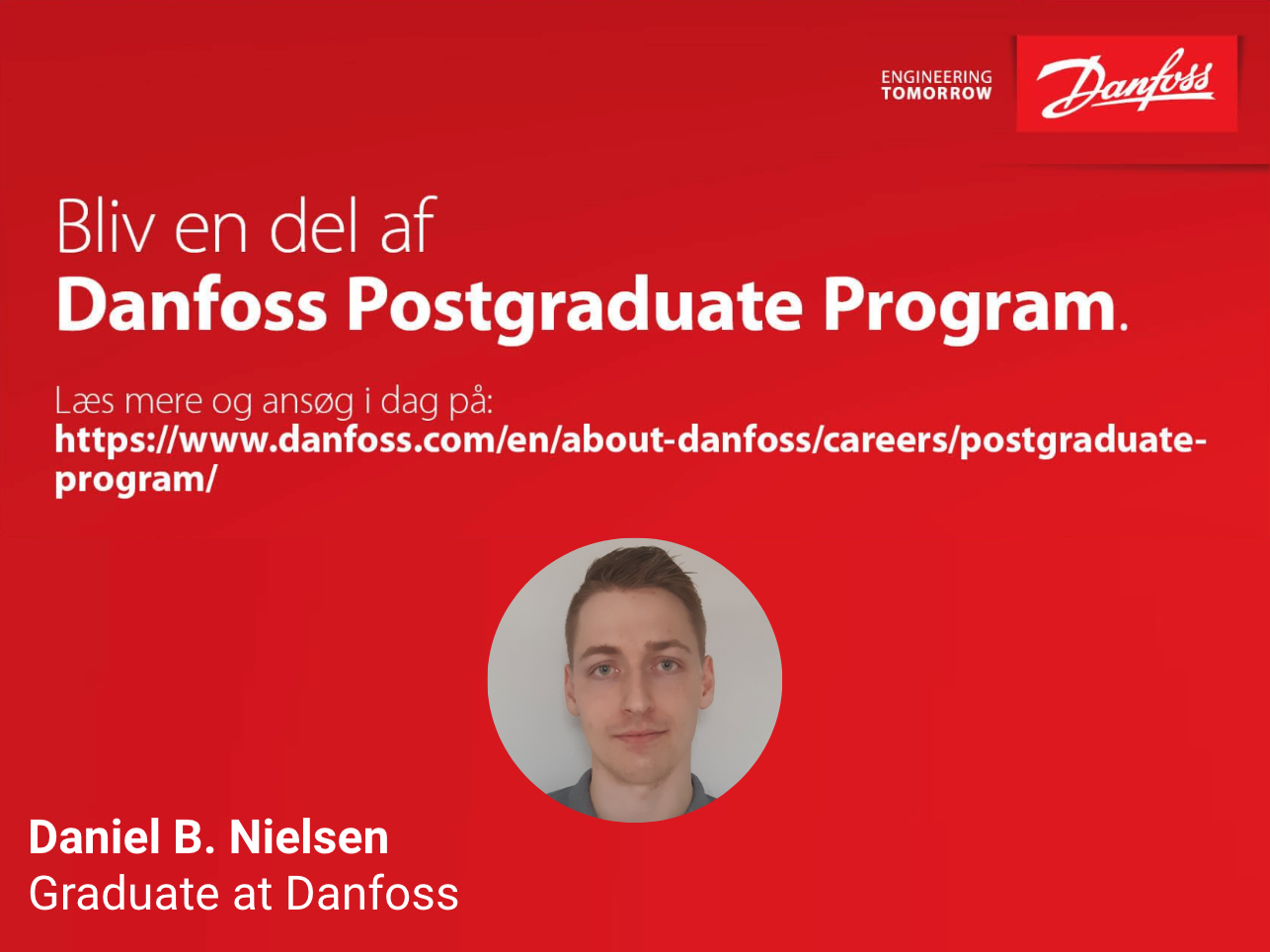 We sat down with Daniel to hear more about his experience as a Danfoss graduate. What started out as a one man business in 1933 has now turned into one of the most successful Danish companies employing more than 26,000 people globally. Daniel has had the opportunity to be a graduate in their Innovation track working on their newest technologies. Danfoss is currently recruiting their next batch of talents – have a look at the roles here.

Why did you choose to apply to Danfoss Graduate Program?
"I was fortunate enough to land an internship with Danfoss while I was studying on my 7th Semester at Aalborg University. Through my internship I learned a lot about the programme, but also about the company, the people and the longer term mission – this made it quite an easy decision to apply for the graduate programme.
In a professional sense then Danfoss was also a really good match with my studies as a Mechatronic Control Engineer. They are market leading when it comes to hydraulic, electrical and mechanical machines so I knew I would be able to learn a lot with in a field I'm passionate about. Finally then I was inspired by their ambition to resolve some of the world's largest problems right now with regards to climate change, food supply and urbanization."
How is the program structured?
"The total duration of the programme is two years. It consists of four rotations of six months each. At least two of the stays are abroad. I think it's an advantage that you are able to venture out of Denmark and build a global network inside the company during the graduate programme. This is something you can always leverage at a later stage in your career.
In general then the company is very accommodating when it comes to the rotations. The key objective is to make sure you get to work on something which is both interesting to yourself and benefits the business. Personally I have focused on the subjects of the rotations instead of the location – I think it's more important that I work on the problems that can give me the greatest learning versus just going to a location which I think could be nice.
My first rotation has been in our HQ in Nordborg where I'm working with some our newest technology – unfortunately I can't disclose too much about the project as it's confidential, but it's super exciting and I'm working with very smart people. For my next role I will be going to Hamburg to work within Business Development. That is an area I  have wanted to work within for quite some time as it is almost the exact opposite of what I have learned during my education as an engineer. I think it's great that the Danfoss will allow me to develop these skills even though they are not related to engineering."
What has been the top 3 things about the program so far?
One of my key motivations to join Danfoss was to develop a diverse set of skills and not just go deep on engineering. I feel very fortunate to be able to move around between different departments, in different regions and working on different problems. The below is my top 3 highlights so far:
Holistic:

Holistic overview of the company serves a foundation for our future careers. We have the opportunity to try different roles and to experience other cultures.

Business Critical:

Business critical roles, being pushed daily to learn new skills, whether it is interpersonal or it is more hard skills.

The colleagues:

The other graduates, makes it so much better. I believe that we all look forward seeing each other on a regular basis, all of this was cemented during our yearly bootcamp where we build trust through team building exercises. (Case competition and personality test).
I also need to mention a fourth thing which is the mentoring programme:
Mentoring:

The mentoring programme, my mentor is an invaluable part of my network.
On the mentoring point then that is something they care a lot about at Danfoss. They use a 70-20-10 model to ensure the right structure for professional development. 70% of the learning is going to come from your on the job learnings, 20% will come from mentors/co-workers and will be informal learning, the last 10% is then managed through formal learning. So even though you have a strong support network to succeed, it's important that you are driving your development in the direction you want.
What's the most important thing to succeed in the program?
"I would probably mention 3 things: Making sure you meet your objectives, being humble and being passionate about what you do. On the first point, then I always think it's important that you deliver based on the objectives that you were given for a specific task. Secondly it's important that you show a humble attitude – as a graduate you are almost always the one with the least experience in the room, so whilst it's important that you speak your mind and add value where you can, you should also spent a great deal of time learning from your colleagues. Finally I think you have to be passionate about the company and what you are working on."
What has been the worst thing about the program so far?
"I haven't had any experiences that I would say was the worst so far. I think it has been super challenging to rotate between departments. Usually towards the end of the rotation you have gotten a really strong relationship with your department and then having to switch can be a bit tough mentally, but then again you know that the next rotation is also going to be great."
Any advice for new applications?
"It's important to remember to be yourself and tell your story as it is. Try to figure out what it is that sets you apart from everyone else. I also think you need to rehearse your introduction to yourself – obviously not so it sounds like you are reading it from a paper, but so you are very clear on what you want the recruiters to take away. Another thing I would focus on would be to show your passion and a positive attitude – make sure that they can feel that you really want it."
What is one thing you wish you knew back when you applied?
"They don't expect you to have years of experience, they just expect that you are curious and eager to learn and develop. As a graduate they really want you to come with a new perspective and provide that to the business.
Where after the graduate programme?
"It's difficult for me to say right now. The goal is to get a holistic overview of the company and then I will think closer about it later on. Right now I'm just leaving all the doors open for opportunities later on."
How can I apply?