Would you like to dive into data to unveil new business opportunities? And do you want to do so in one of the biggest IT companies in Denmark?
Then join us to see your work come to life. As part of the TDC Group Graduate Programme, you will spend 1 year exploring and evolving your skills before building a career with us.
"If you are excited to drive decision-making using data and your solid analysis skills, this is definitely the job for you," says Christian Friis, Vice President of Commercial Steering, TDC NET.
Make your mark on where we take the business next
Starting 12 August 2020, you will join TDC NET and impact the business from day 1.
Depending on the department you join, you will conduct analyses related to: facilitating sales by analysing campaign performance and customer potential; driving strategic IT across the business; establishing new KPI set-ups and dashboards to drive production optimisation; analysing data on competing infrastructure to provide crucial insights for how we roll out fiber and 5G; or optimising business processes across products and solutions.
Either way, you can look forward to:
Collaborating with highly skilled colleagues to uncover business needs

Collecting and analysing different types of data and/or build entirely new databases

Building dashboards and other visualisations to make data come alive in order to drive true business decision-making

Developing business cases and reports to identify new business and optimisation opportunities

Presenting findings and recommendations to management
A programme built for you
Our graduate programme is a unique 1-year experience designed to ignite your TDC career. You will join one of our 3 business units: TDC Group, Nuuday or TDC NET. Here, you will spend 6 months at 2 different brands or group functions, giving you the chance to excel within your field of expertise in different business contexts.
We evaluate and adjust the programme to match your interests and potential, and you will get a personal development plan to ensure that your talent accelerates throughout the programme.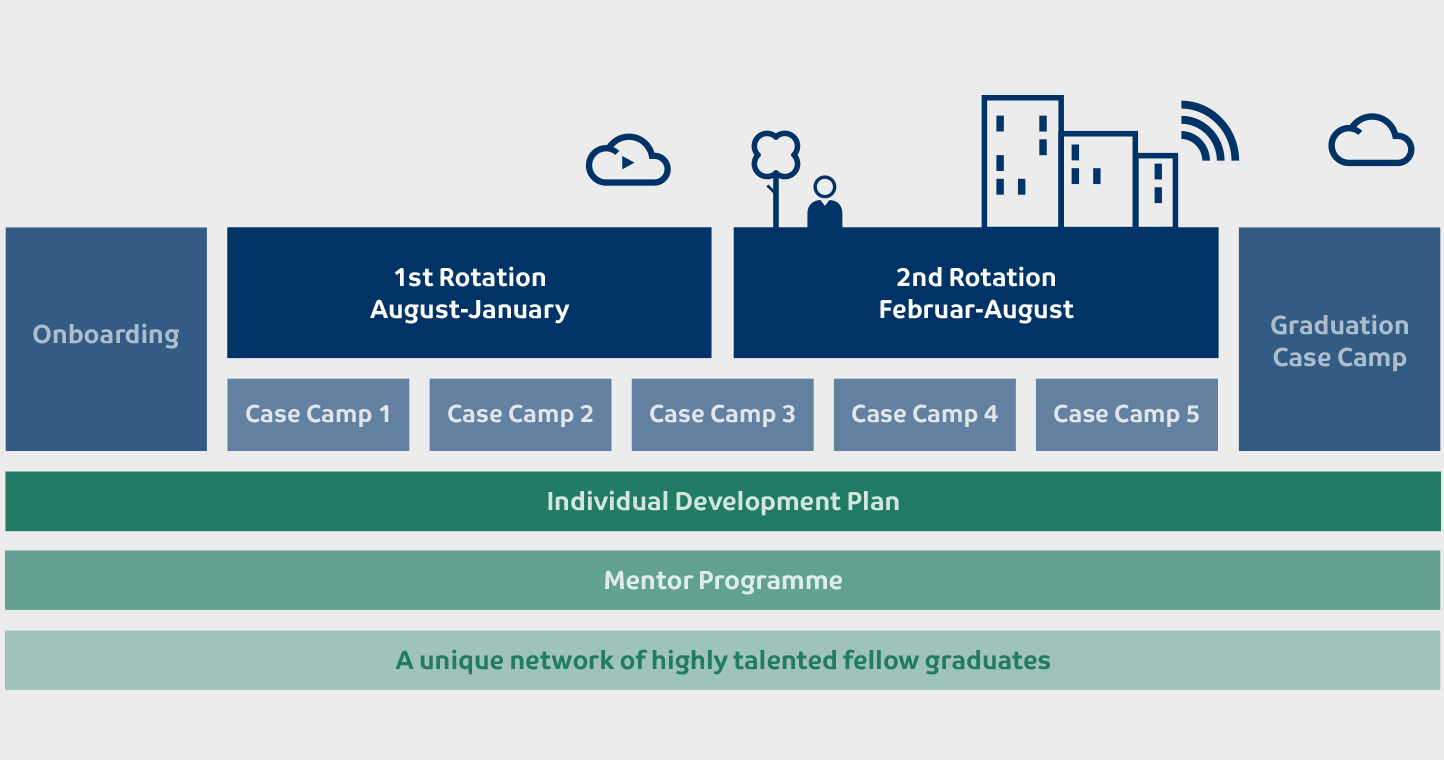 No matter which track you choose, you will work on high-priority projects and get real responsibility from day 1. You will be supported by mentors, sponsors from senior management and HR professionals and participate in social events and case camps with your fellow graduates from across the TDC Group.
Analytical wiz with solid business knowledge
You have completed a master's degree, preferably within business IT, data science or business and economics (e.g. cand.merc. or cand.oecon.)

You have a thorough understanding of and interest in business

You have solid analytical skills and a talent for working with complex data and business processes

You communicate effortlessly in English and Danish and know how to present your analytical findings to others

If you are interested in burying yourself in databases and number crunching, it is a plus if you know SAS or SQL programming and have experience with Power BI or other visualisation tools
Want to connect?

Join TDC Graduate Day in Aarhus 11 February or in Copenhagen on 13 February 2020. Here, you will get to meet managers, HR partners and graduates from across the graduate tracks. They are ready to provide answers to all your questions about the TDC Group Graduate Programme 2019. Sign up for the event here.
If you have questions about the programme, you are also welcome to contact Graduate Programme Manager Marianne Klercke, at tdcgraduate@tdc.dk.
It's a match
If you're ready to get started, please upload your CV, diploma and motivational letter by using the "Apply here" button. We invite candidates for interviews on a continuous basis, so please apply as soon as possible. The application deadline is on 1 March 2020.
Application deadline:
01-03-2020
Starting date:
12-08-2020
Salary:
/