Would you like to challenge your theoretical knowledge as you run your very own campaigns across multiple communication channels – and get access to potentially over a million customers across Denmark?
As part of the TDC Group Graduate Programme, you will spend 1 year at Nuuday where you can grow your skills before building a career with us.
"As a graduate at Nuuday, you can truly grow an end-to-end understanding of marketing
as you get to run your own processes, test out your ideas and see the results of your
work with your own eyes," says Martin Bjerg, Head of  Digital Marketing.
Partake in all processes from planning to execution
Starting 12 August 2020, you will join Campaign & Performance Marketing in Nuuday where talented colleagues work on all go-to-market initiatives across brands and channels. You will specifically spend the first 6 months of the programme together with the YouSee tribe – a cluster of cross-functional teams dedicated to the YouSee brand.
Together with the team, you will take part in delivering on our marketing objectives while running your own marketing campaigns to support these. You will work with all steps, from planning to execution, and you get to evaluate the results of your work to learn from successes and challenges.
"This is the place where you can try out new things and make your own decisions. And
you will have us – the biggest marketing muscle in Denmark – to help you along the way," Martin adds.
More specifically, you will:
Collect and use insights as foundation for decision making on new campaigns

Plan, build and carry out marketing campaigns on paid and owned channels

Track performance for all ongoing campaigns and adjust accordingly

Ensure all marketing materials support our brand building goals
A programme built for you
Our graduate programme is a unique 1-year experience designed to ignite your TDC career. You will join one of our 3 business units: TDC Group, Nuuday or TDC NET. Here, you will spend 6 months at 2 different brands or group functions, giving you the chance to excel within your field of expertise in different business contexts.
We evaluate and adjust the programme to match your interests and potential, and you will get a personal development plan to ensure that your talent accelerates throughout the programme.
We evaluate and adjust the programme to match your interests and potential, and you will get a personal development plan to ensure that your talent accelerates throughout the programme.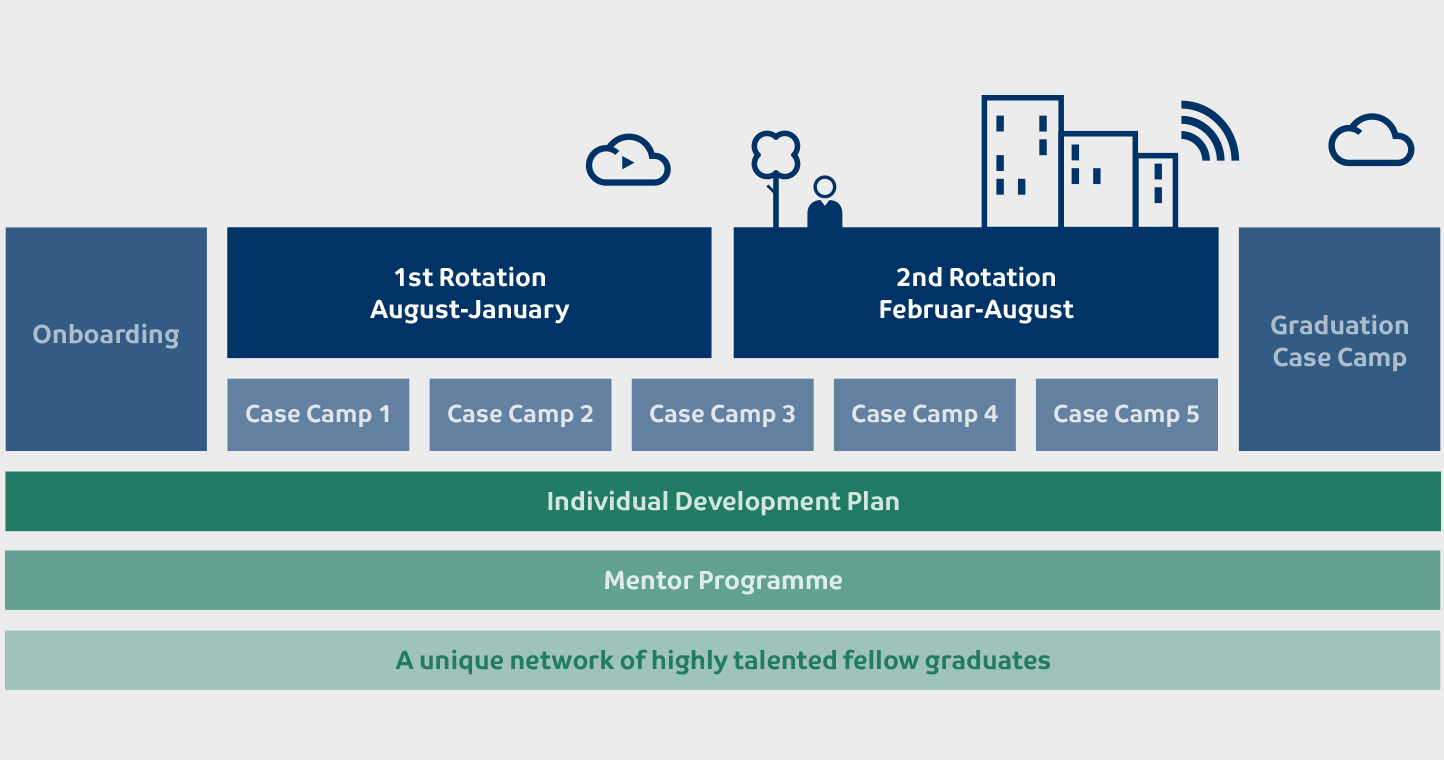 No matter which track you choose, you will work on high-priority projects and get real responsibility from day 1. You will be supported by mentors, sponsors from senior management and HR professionals and participate in social events and case camps with your fellow graduates from across the TDC Group.
Graduate with an affinity for collaboration
You are about to or have recently graduated with a master's in communication, marketing, brand management, economics or the like

You communicate effortlessly in both English and Danish

You are motivated to collaborate with as well as support others with different marketing tasks

You are familiar with the MS Office suite, particularly Excel and PowerPoint

Experience with marketing is a great plus
Want to connect?

Join TDC Graduate Day in Aarhus 11 February or in Copenhagen on 13 February 2020. Here, you will get to meet managers, HR partners and graduates from across the graduate tracks. They are ready to provide answers to all your questions about the TDC Group Graduate Programme 2019. Sign up for the event here.
If you have questions about the programme, you are also welcome to contact Graduate Programme Manager Marianne Klercke, at tdcgraduate@tdc.dk.
It's a match
If you're ready to get started, please upload your CV, diploma and motivational letter by using the "Apply here" button. We invite candidates for interviews on a continuous basis, so please apply as soon as possible. The application deadline is on 1 March 2020.
Application deadline:
01-03-2020
Starting date:
01-09-2020
Salary:
/