Would you like to gain hands-on experience with product life cycle management? And do you want to do so across technologies, platforms and devices as part of one of Denmark's largest IT companies?
Then join us to make your mark on the commercial direction of a digital market leader. As part of the TDC Group Graduate Programme, you will spend 1 year exploring and evolving your skills before building a career with us.
"You will get unique insights into all aspects of product life cycle management and build a well-stocked commercial management toolbox. And you'll do so with full support from highly skilled and dedicated colleagues that are looking forward to introducing you to the field, " says Head of Commercial Management, YouSee Mobile, Thomas Simonsen.
Develop the product portfolio of tomorrow
Starting 12 August 2020, you will join a highly ambitious Commercial Management team in one of our TDC Group brands. We have the commercial responsibility for our product portfolios, including strategy, sales, pricing, budgets, customer management, market and competitor analysis and much more.
Depending on your skills and interests, you get to dive into one or more of these commercial areas to develop new services and solutions, strengthen existing ones and grow our customer base. Taking on a consultant role, you will handle the end-to-end process of commercial initiatives as you:
Lead and/or participate in commercial projects and support set the cross-functional project team

Analyse customer needs to identify issues and solutions

Develop the future commercial strategy, identify key strategic initiatives and drive these to execution

Prepare value propositions that define the value of new products and concepts

Develop, implement and carry out segment strategies and road maps

Present recommendations to management and collaborate closely with colleagues across the business to implement and follow up on new commercial initiatives
A programme built for you
Our graduate programme is a unique 1-year experience designed to ignite your TDC career. You will join one of our 3 business units: TDC Group, Nuuday or TDC NET. Here, you will spend 6 months at 2 different brands or group functions, giving you the chance to excel within your field of expertise in different business contexts.
We evaluate and adjust the programme to match your interests and potential, and you will get a personal development plan to ensure that your talent accelerates throughout the programme.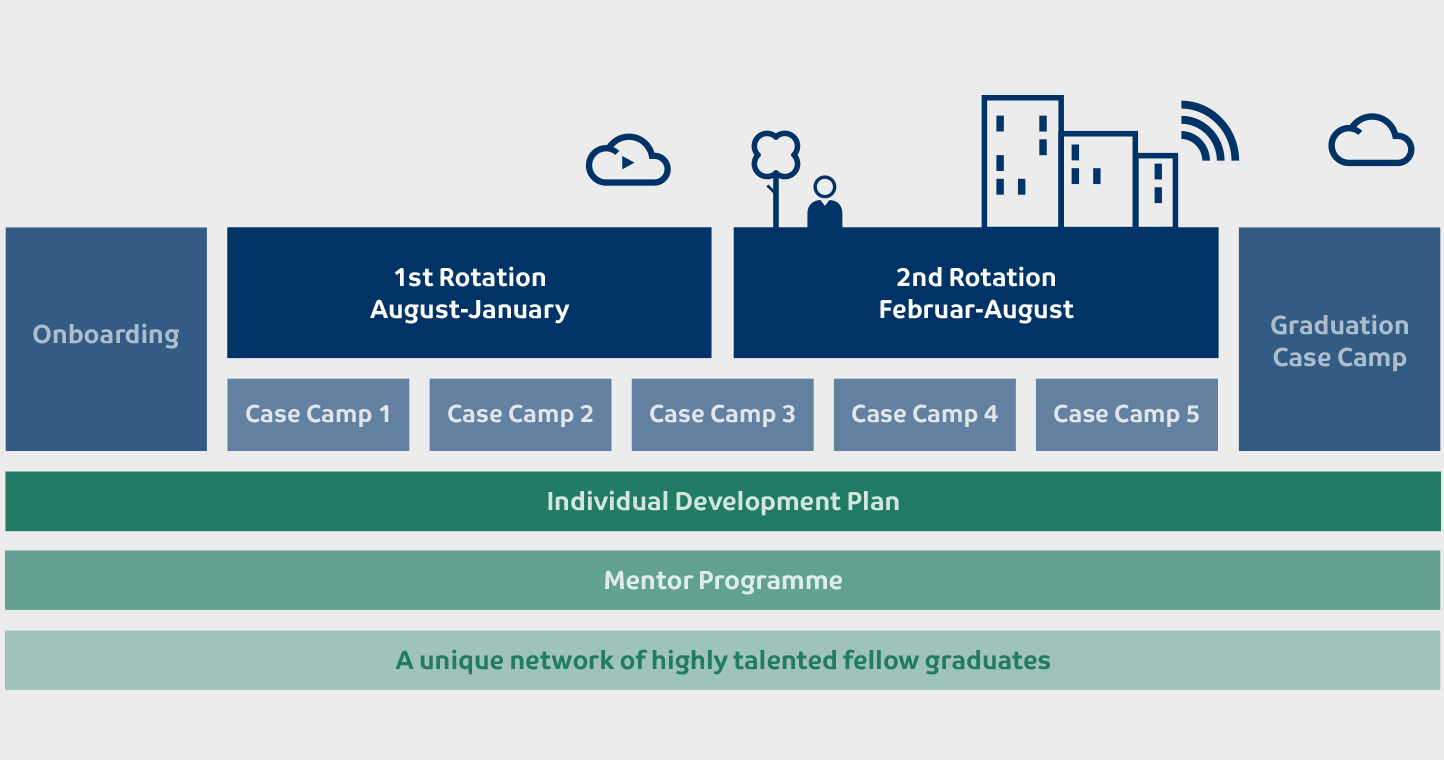 No matter which track you choose, you will work on high-priority projects and get real responsibility from day 1. You will be supported by mentors, sponsors from senior management and HR professionals and participate in social events and case camps with your fellow graduates from across the TDC Group.
Commercial talent with a knack for problem-solving

You have a master's degree in business administration, economics, marketing or similar

You excel at building relations and succeeding with others

You have a creative mind and know how to generate valuable insights from data

You communicate effortlessly in English and Danish in both speech and writing
Want to connect?
Join TDC Graduate Day in Aarhus 11 February or in Copenhagen on 13 February 2020. Here, you will get to meet managers, HR partners and graduates from across the graduate tracks. They are ready to provide answers to all your questions about the TDC Group Graduate Programme 2019. Sign up for the event here.
If you have questions about the programme, you are also welcome to contact Graduate Programme Manager Marianne Klercke, at tdcgraduate@tdc.dk.
It's a match
If you're ready to get started, please upload your CV, diploma and motivational letter by using the "Apply here" button. We invite candidates for interviews on a continuous basis, so please apply as soon as possible. The application deadline is on 1 March 2020.
Application deadline:
01-03-2020
Starting date:
12-08-2020
Salary:
/