Would you like to work with data processing, modelling and visualisation on the newest cloud platforms?
As part of the TDC Group Graduate Programme, you will spend 1 year exploring and evolving your skills before building a career with us.
"If you enjoy solving complex high-priority issues with data and narrative visualisation rather than just a gut feeling – then this job is as fun as it gets," says Chapter Lead, Data Analysis and Visualisation, Troels Leth Petersen.
Uncover the stories hidden in our big data
Starting 12 August 2020, you will join around 100 data and AI colleagues in Nuuday, the business unit driving all the TDC brands. Here, you will join a so-called squad – a team focusing on a specific data domain. This could be the squad concerned with financial data or the one exploring consumer data.
No matter which squad you become part of, you will collaborate with departments across the business to generate insights on specific issues, blind spots or commercial opportunities. This could for instance be to explore music data from YouSee to uncover consumer behaviour and provide recommendations to the business on how to utilise these data.
Doing so, you will:
Collect input on specific business needs and conduct business process analyses

Clean, code, format, structure and analyse data in DAX, M and SQL

Make data models and visualisations in MS Power BI, adjusted to business and end user needs

Collaborate with end users across the business to continuously adjust and extend existing live reports to meet new business needs
"During your time with us, you will really learn how to tell comprehensible stories with
complex big data and see how the insights you provide can impact on a business like
ours," Troels explains.
A programme built for you
Our graduate programme is a unique 1-year experience designed to ignite your TDC career. You will join one of our 3 business units: TDC Group, Nuuday or TDC NET. Here, you will spend 6 months at 2 different brands or group functions, giving you the chance to excel within your field of expertise in different business contexts.
We evaluate and adjust the programme to match your interests and potential, and you will get a personal development plan to ensure that your talent accelerates throughout the programme.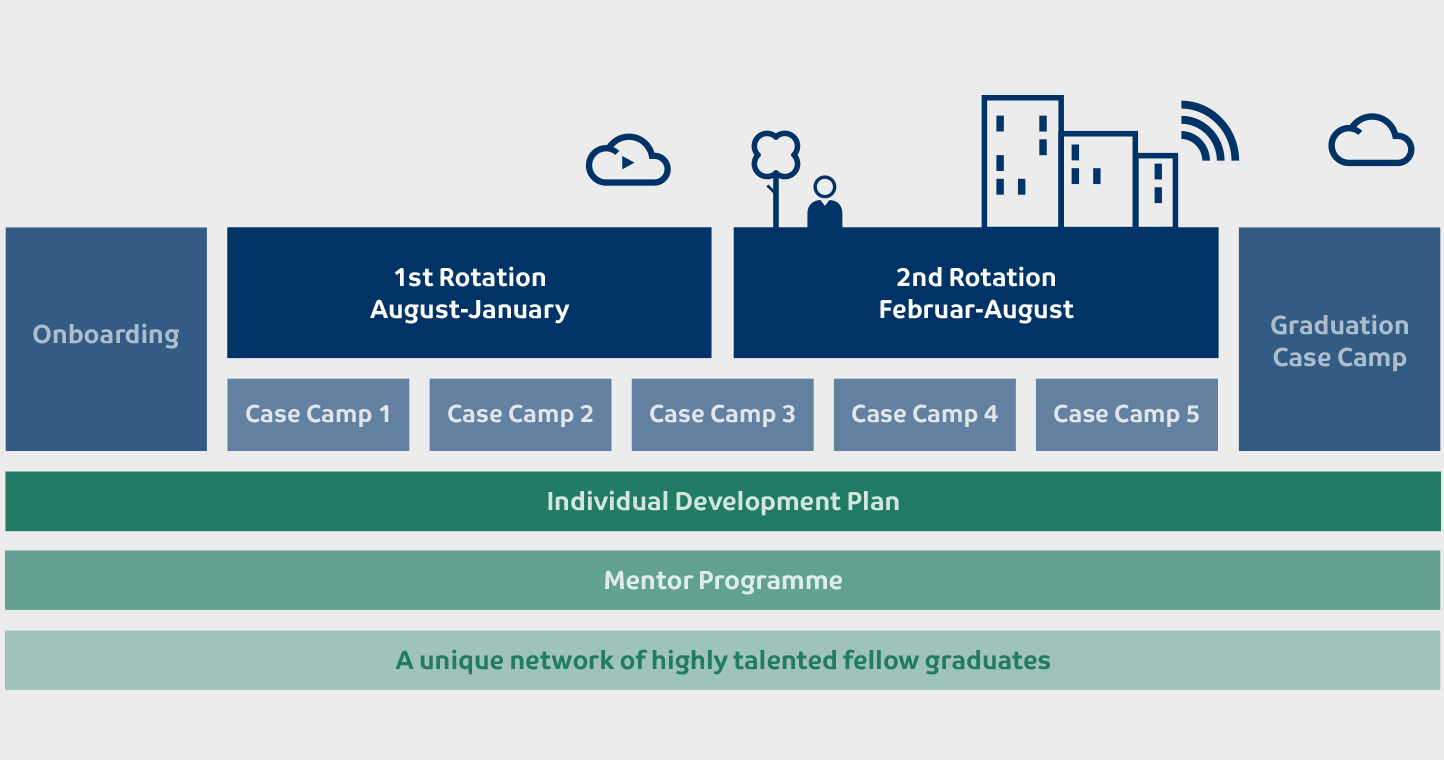 No matter which track you choose, you will work on high-priority projects and get real responsibility from day 1. You will be supported by mentors, sponsors from senior management and HR professionals and participate in social events and case camps with your fellow graduates from across the TDC Group.
Aspiring data storyteller with great communication skills
You are about to complete or have recently completed a technical master's degree where you have worked with data processing, modelling and visualisation – perhaps also through your student job

You communicate effortlessly in English and enjoy collaborating with non-technical stakeholders

It is a great plus if you are familiar with DAX, M and/or SQL languages

It is a plus if you have familiarised yourself with Power BI – to check it out and download the tool for free
Want to connect?
Join TDC Graduate Day in Aarhus 11 February or in Copenhagen on 13 February 2020. Here, you will get to meet managers, HR partners and graduates from across the graduate tracks. They are ready to provide answers to all your questions about the TDC Group Graduate Programme 2019. Sign up for the event here.
If you have questions about the programme, you are also welcome to contact Graduate Programme Manager Marianne Klercke, at tdcgraduate@tdc.dk.
It's a match
If you're ready to get started, please apply by uploading your CV, diploma and motivational letter. We invite candidates for interviews on a continuous basis, so please apply as soon as possible. The application deadline is on 1 March 2020.
Application deadline:
01-03-2020
Starting date:
12-08-2020
Salary:
/