Would you like to help develop the next generation of recommendation systems, fraud detection solutions and dispatch algorithms?
Join us and put your data science and machine learning knowledge to good use as part of the TDC Group Graduate Programme. Here, you will spend 1 year exploring and evolving your skills before building a career with us.
"We are constantly pushing the boundaries of data science, and you can too as you
develop new solutions with us and bring your own ideas into the mix," says Data Science Lead Mads Fogtmann.
Explore, present and develop new solutions
Starting August 2020, you will dive headfirst into development projects in either Nuuday or TDC NET.
Depending on what business unit you become a part of, you may work on everything from operations to maintenance solutions including fiber rollout strategies and technician dispatch algorithms. You may also work on chatbots, recommendation systems for music and movies, fraud detection solutions, churn modelling and anything else the organisation needs to ensure the best customer experiences.
No matter which business unit you become a part of, you will work together with our Digital Service squads – cross-functional teams with talented data scientists and other specialists in charge of developing these new solutions. Together with the team, you will:
Make feasibility studies to uncover possible solutions

Present the possible solutions and take part in decision-making

Develop and implement the solutions
You will likewise join us in our mission to promote data science and explain the capabilities and limitations of machine learning to many colleagues across the organisation.
"This way, you won't just learn about developing the solutions, but also communicating
them across functions and borders and developing a confident voice in the process,
" Mads adds.
A programme built for you
Our graduate programme is a unique 1-year experience designed to ignite your TDC career. You will join one of our 3 business units: TDC Group, Nuuday or TDC NET. Here, you will spend 6 months at 2 different brands or group functions, giving you the chance to excel within your field of expertise in different business contexts.
We evaluate and adjust the programme to match your interests and potential, and you will get a personal development plan to ensure that your talent accelerates throughout the programme.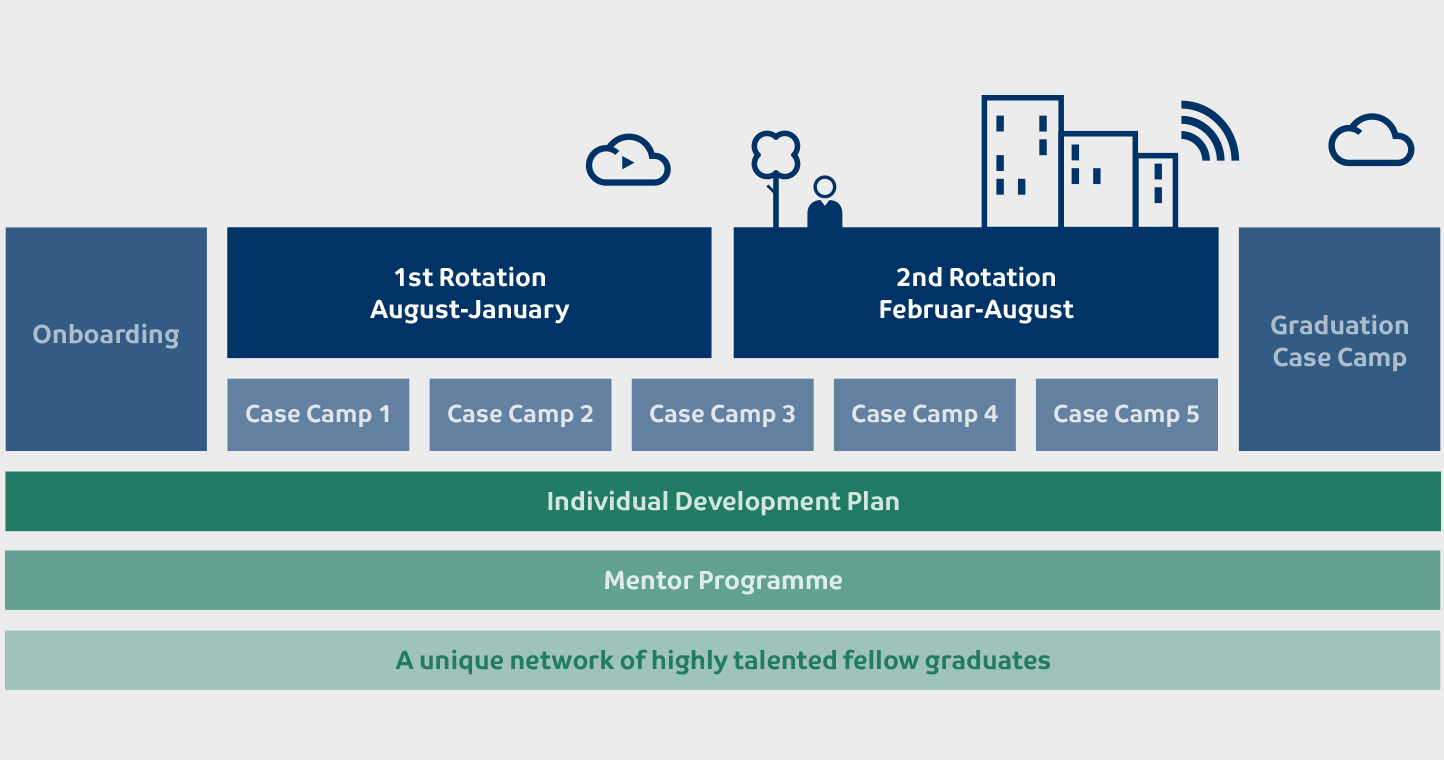 No matter which track you choose, you will work on high-priority projects and get real responsibility from day 1. You will be supported by mentors, sponsors from senior management and HR professionals and participate in social events and case camps with your fellow graduates from across the TDC Group.
Machine learning wiz with great communication skills
You are about to or have recently graduated with a master's in computer science or engineering with a focus on machine learning

You are a native in Python and are familiar with machine learning frameworks such as scikit-learn and TensorFlow or similar

You communicate effortlessly in English and have the ability to communicate complex solutions in ways everyone can understand

You are naturally curious and easy-going, so you fit well in an environment where new ideas and changes occur frequently

Previous experience abroad or as a student helper in development is a great plus
Want to connect?
Join TDC Graduate Day in Aarhus 11 February or in Copenhagen on 13 February 2020. Here, you will get to meet managers, HR partners and graduates from across the graduate tracks. They are ready to provide answers to all your questions about the TDC Group Graduate Programme 2019. Sign up for the event here.
If you have questions about the programme, you are also welcome to contact Graduate Programme Manager Marianne Klercke, at tdcgraduate@tdc.dk.
It's a match
If you're ready to get started, please apply by uploading your CV, diploma and motivational letter. We invite candidates for interviews on a continuous basis, so please apply as soon as possible. The application deadline is on 1 March 2020.
Application deadline:
01-03-2020
Starting date:
01-09-2020
Salary:
/