Are you ready to develop your skills as a finance business partner? And would you like to see how your analytical work and the insights you generate can be applied to executive decision-making?
"So many changes have taken place as TDC has evolved into 3 business units: TDC Group, TDC NET and Nuuday. We are proving a new telco business model, and this is just
the right time to join us as you can make your mark on this pivotal journey," says Jakob
Birck Müller, VP and Head of Group Finance at TDC Group.
As part of our graduate programme, you will spend 1 year developing strategic, coordinative and financial skills before building a career with us.
Join us at the heart of finance
Starting 12 August 2020, you will join the finance function of either TDC Group, TDC NET or Nuuday. You will have a unique chance to explore business partnering from different angles within the 1-year period as your tasks will include:
Collaborating with different departments on their financial and strategic performance

Performing financial analyses and build business cases

Translating results and data-based insights into relevant recommendations and presenting them to management

Taking process responsibility for reporting and forecasting
Joining Finance at the TDC Group, you will work closely with top management and focus on cross-business collaboration and analyses. Working as a part of TDC NET or Nuuday, you will instead get even closer to the business and focus on performance, business strategy and market development.
"No matter what unit you become a part of, you will provide transparency in financial
numbers and translate these into stories and great recommendations to support
decision-making. This will give you different perspectives on business partnering and
invaluable knowledge to build a future career on," Jakob explains.
A programme built for you
Our graduate programme is a unique 1-year experience designed to ignite your TDC career. You will join one of our 3 business units: TDC Group, Nuuday or TDC NET. Here, you will spend 6 months at 2 different brands or group functions, giving you the chance to excel within your field of expertise in different business contexts.
We evaluate and adjust the programme to match your interests and potential, and you will get a personal development plan to ensure that your talent accelerates throughout the programme.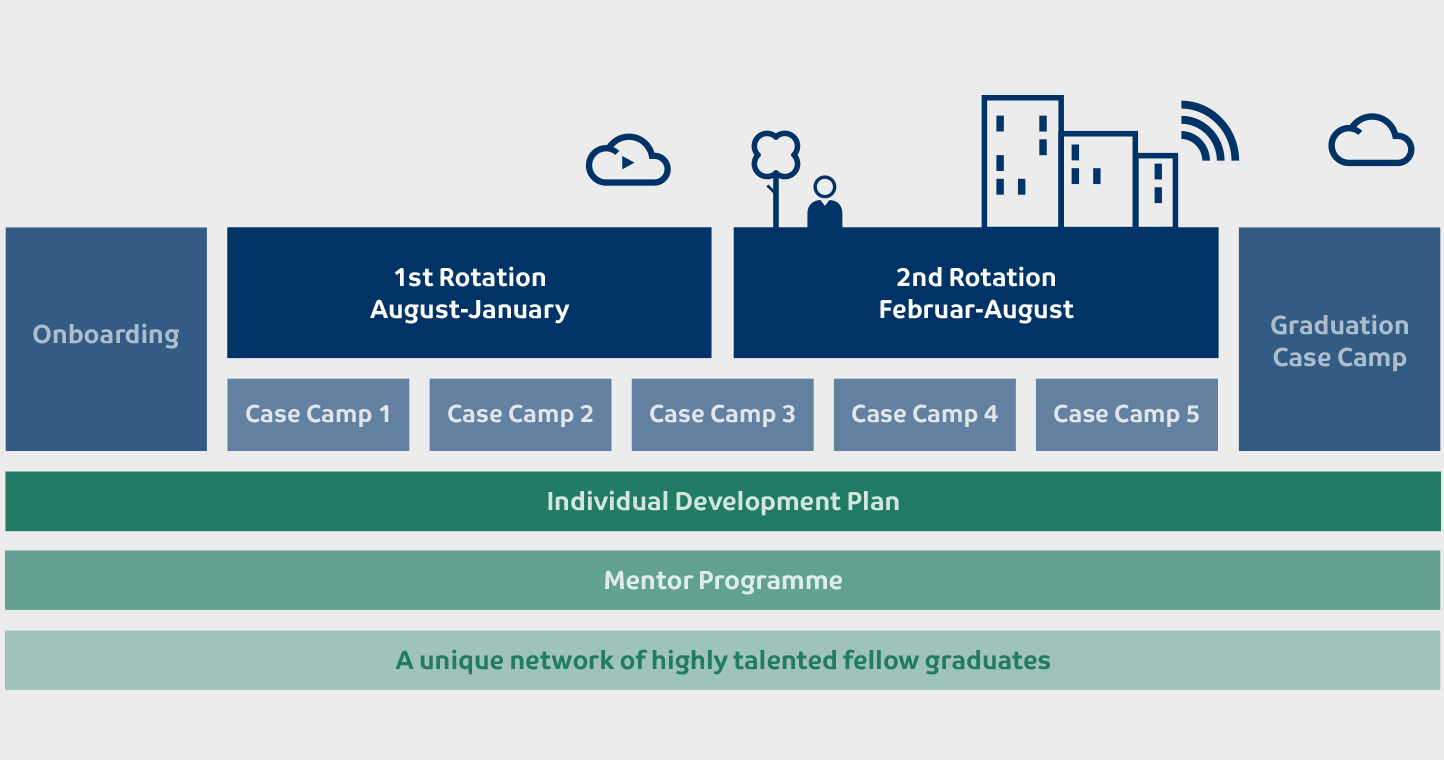 No matter which track you choose, you will work on high-priority projects and get real responsibility from day 1. You will be supported by mentors, sponsors from senior management and HR professionals and participate in social events and case camps with your fellow graduates from across the TDC Group.
Finance or strategy graduate with great communication skills
You are about to graduate or have recently graduated with a master's in finance or strategy, e.g. as a cand.merc., cand.polit., cand.oecon. or similar

You communicate effortlessly in Danish and English

You are a native in the MS Office suite, especially Excel and PowerPoint – knowledge of XLCube, Power BI and ThinkCell is a great plus

You are a true collaborator who enjoys succeeding with others

You have great analytical and communicative skills, enabling you to draw conclusions that you are able to present in engaging ways

You are motivated by working in a flexible environment where priorities can change from day to day
Want to connect?  
Join TDC Graduate Day in Aarhus 11 February or in Copenhagen on 13 February 2020. Here, you will get to meet managers, HR partners and graduates from across the graduate tracks. They are ready to provide answers to all your questions about the TDC Group Graduate Programme 2019. Sign up for the event here.
If you have questions about the programme, you are also welcome to contact Graduate Programme Manager Marianne Klercke, at tdcgraduate@tdc.dk.

It's a match
If you're ready to get started, please upload your CV, diploma and motivational letter by using the "Apply here" button. We invite candidates for interviews on a continuous basis, so please apply as soon as possible. The application deadline is on 1 March 2020.
Application deadline:
01-03-2020
Starting date:
12-08-2020
Salary:
/