Do you have what it takes to be our new pen tester aspirant?
This is your chance to join a world-class pen team, responsible for testing critical systems that are vital for Denmark's digital infrastructure.
"During your year with us, you will get to acquire certifications, attend competitions and
enhance your skills considerably – and, by the end of it, hopefully become the newest recruit on our team," says Gerard Doyle, Group Security Director, who is responsible for cyber and physical security testing in TDC Group.
Extend your toolbox with focused pen test training
Starting 12 August 2020, you will join the Pen Test team in TDC Group. We are responsible for testing software and infrastructures for vulnerabilities in a complex and ever-changing environment. Moreover, we provide advice and guidance to teams across TDC regarding system security.
Depending on your strengths and interests, the first part of your programme will be all about extending your pen test toolbox through training, certifications and competitions. Once you have finetuned your pen testing toolbox, you will spend your time in the Pen Test team testing systems, documenting, reporting and communicating potential vulnerabilities and solutions to system owners across the business, including senior management.
"Besides your technical abilities, your role as a pen tester is just as much about understanding the importance of documenting every move you make and being able to communicate highly complex technical information to non-technical stakeholders," Gerard Doyle explains.
A programme built for you
Our graduate programme is a unique 1-year experience designed to ignite your TDC career. You will join one of our 3 business units: TDC Group, Nuuday or TDC NET. Here, you will spend 6 months at 2 different brands or group functions, giving you the chance to excel within your field of expertise in different business contexts.
We evaluate and adjust the programme to match your interests and potential, and you will get a personal development plan to ensure that your talent accelerates throughout the programme.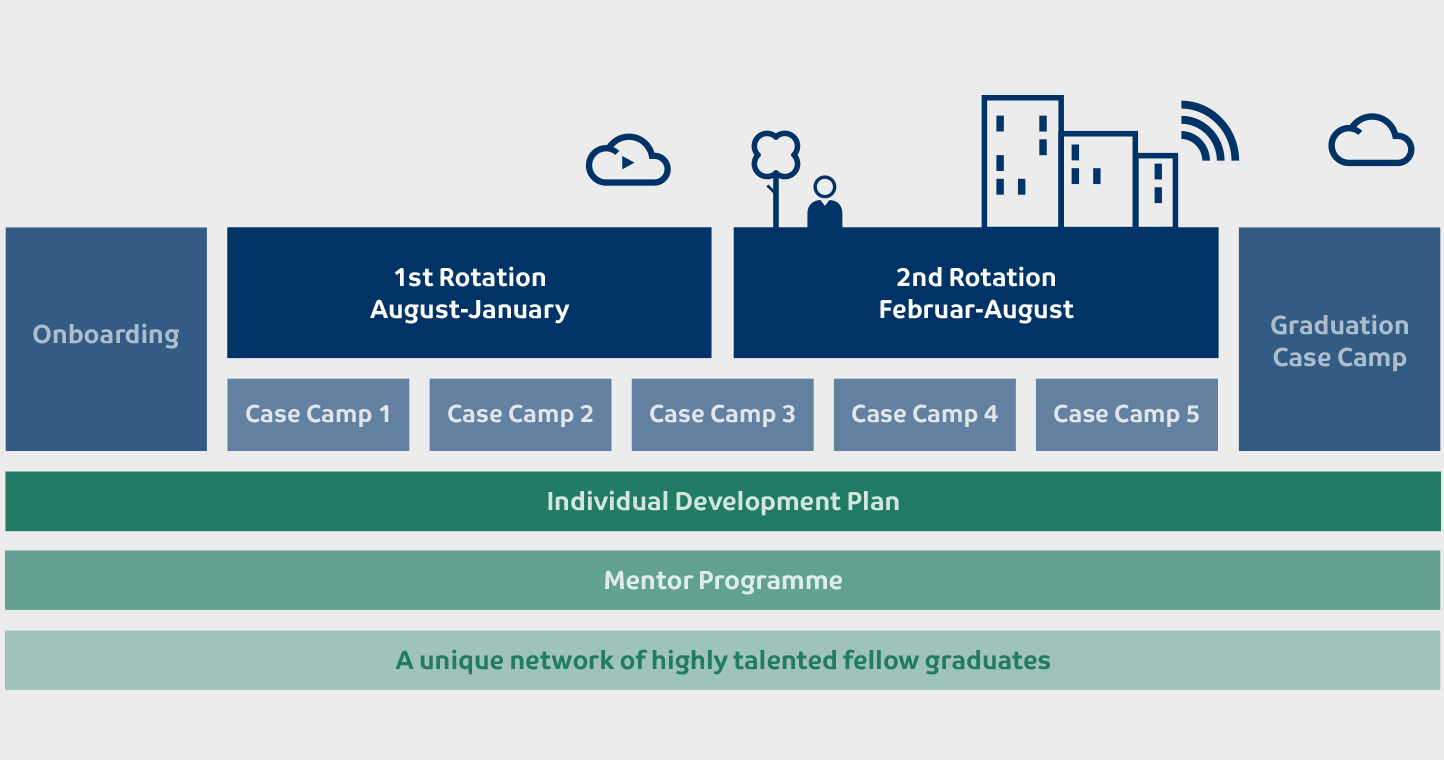 No matter which track you choose, you will work on high-priority projects and get real responsibility from day 1. You will be supported by mentors, sponsors from senior management and HR professionals and participate in social events and case camps with your fellow graduates from across the TDC Group.
Are you the most ambitious hacker out there?
You are about to have or have recently graduated with a relevant master's degree.

You have a great interest in hacking, demonstrated by your participation in CTFs, university hacking clubs, hacking conferences or individual training efforts

You have a basic understanding of scripting languages and syntax

You have network knowledge (TCP/IP, mobile networks, COAX, DSL, etc.)

You have an understanding of pen test tools

You communicate effortlessly in English in both speech and writing

You have solid interpersonal skills and know how to communicate complex technical issues to non-technical stakeholders
Want to connect?
Join TDC Graduate Day in Aarhus 11 February or in Copenhagen on 13 February 2020. Here, you will get to meet managers, HR partners and graduates from across the graduate tracks. They are ready to provide answers to all your questions about the TDC Group Graduate Programme 2019. Sign up for the event here.
If you have questions about the programme, you are also welcome to contact Graduate Programme Manager Marianne Klercke on at tdcgraduate@tdc.dk.
It's a match
If you're ready to get started, please apply by uploading your CV, diploma and motivational letter. We invite candidates for interviews on a continuous basis, so please apply as soon as possible. The application deadline is on 1 March 2020.
Application deadline:
01-03-2020
Starting date:
12-08-2020
Salary:
/