Do you want to take up a pivotal role, ensuring high-quality products and innovative customer experiences? And would you like to do so as you collaborate closely with talented colleagues across product development, IT, marketing and sales?
This is your chance to apply your academic skills to the field of product management. As part of the TDC Group Graduate Programme, you will spend 1 year exploring and evolving your skills before building a career with us.
"This is a unique opportunity to get a taste of what product management offers within a
Danish market leader. As a product manager, you are at the centre of it all, having
discussions with IT about specific product features and going over commercial aspects with sales and marketing colleagues," says Head of Product Management, YouSee, Jesper Korsskov.
Make your mark on Denmark's favourite digital products
Starting 12 August 2020, you will join a dedicated Product Management team as part of one of the TDC Group brands. As a product manager, you will contribute to conceptualising and developing brand new products, services and solutions as well as new features for existing products. Doing so, you link commercial management with technical product development as the ambassador for great customer experiences.
Connecting the dots surrounding the product you manage, you will:
Examine customer journeys and experiences to spot opportunities for product improvements

Collaborate with sales and commercial management regarding business needs

Work with IT to ensure high-quality product development

Collaborate with marketing to ensure the product is communicated successfully
A programme built for you
Our graduate programme is a unique 1-year experience designed to ignite your TDC career. You will join one of our 3 business units: TDC Group, Nuuday or TDC NET. Here, you will spend 6 months at 2 different brands or group functions, giving you the chance to excel within your field of expertise in different business contexts.
We evaluate and adjust the programme to match your interests and potential, and you will get a personal development plan to ensure that your talent accelerates throughout the programme.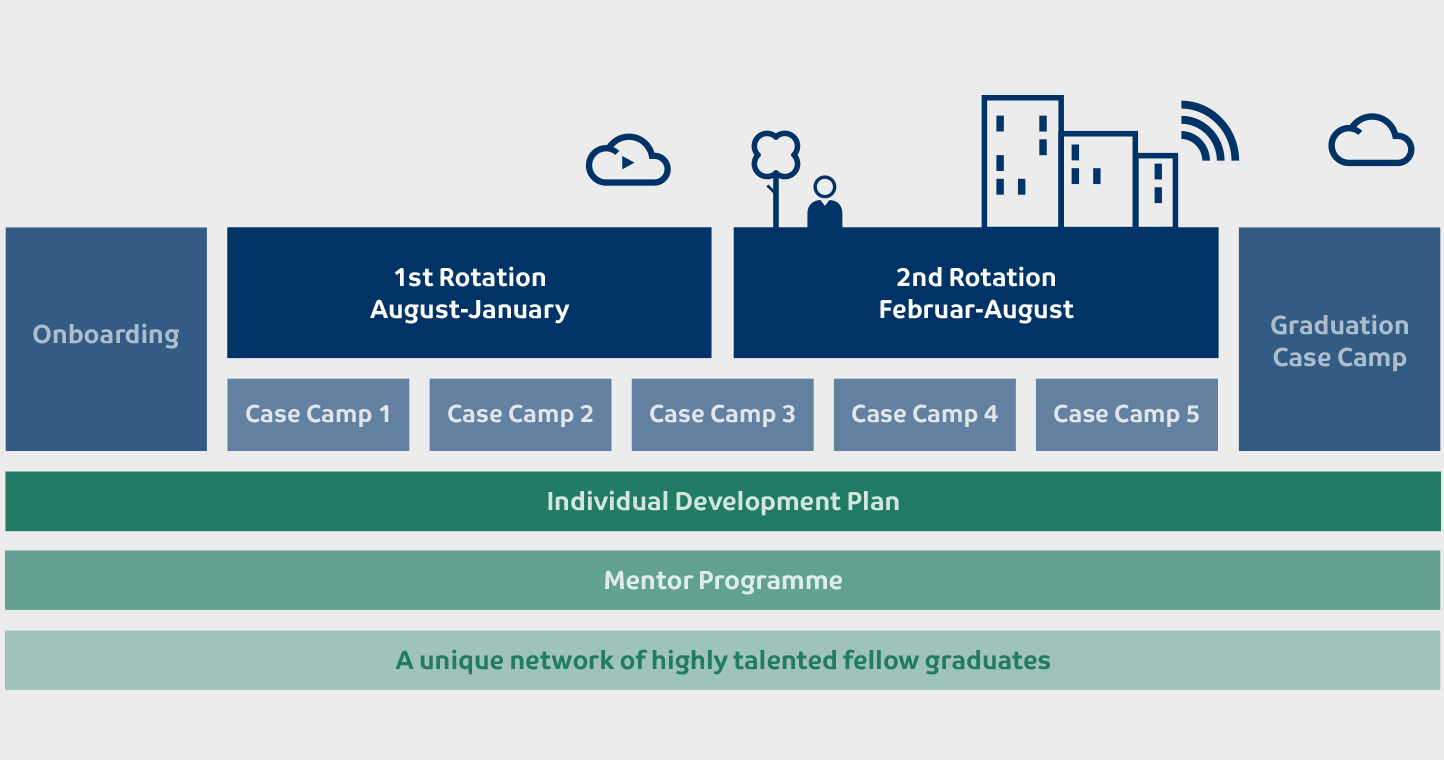 No matter which track you choose, you will work on high-priority projects and get real responsibility from day 1. You will be supported by mentors, sponsors from senior management and HR professionals and participate in social events and case camps with your fellow graduates from across the TDC Group.
Do you have a passion for product quality?
You have a master's degree – preferably in a commercial field or engineering, but your subject is not as important as your attitude and interest in product management

You have a keen interest in understanding customer needs and impact related to IT, communication and entertainment products and services

You communicate effortlessly in English and Danish

It is a plus if you have good project management skills
  Want to connect?  

Join TDC Graduate Day in Aarhus 11 February or in Copenhagen on 13 February 2020. Here, you will get to meet managers, HR partners and graduates from across the graduate tracks. They are ready to provide answers to all your questions about the TDC Group Graduate Programme 2019. Sign up for the event here.
If you have questions about the programme, you are also welcome to contact Graduate Programme Manager Marianne Klercke, at tdcgraduate@tdc.dk.
It's a match
If you're ready to get started, please upload your CV, diploma and motivational letter by using the "Apply here" button. We invite candidates for interviews on a continuous basis, so please apply as soon as possible. The application deadline is on 1 March 2020.
Application deadline:
01-03-2020
Starting date:
12-08-2020
Salary:
/