Would you like to take part in the most complex telco transformation seen on Danish soil – and help turn architectural challenges into great solutions?
"This is quite an exciting challenge as you will take part in building three entirely new
architectural solutions that may support 3 very different business units with distinct
missions and processes," says Kenni Jørgensen, VP and Head of Strategy & Architecture.
As part of the TDC Group Graduate Programme, you will spend 1 year growing your skills and gaining a unique insight into agile transformations before building a career with us.
Design the solutions of tomorrow
Starting 12 August 2020, you will join Strategy & Architecture within TDC Group. Here, you will take part in our organisation-wide digital transformation by supporting our skilled architects in the creation of new solutions that will serve TDC Group, TDC NET and Nuuday for years to come.
More specifically, you will:
Help design and find the optimal solutions for given problems and applications

Identify business and technical requirements and use them to shape the solutions

Design parts of the overall architecture

Create presentations and materials for relevant colleagues in the organisation to support decision-making
"With change comes great complexity but also great opportunities and a great dynamic
in the everyday tasks. We have no fixed processes right now, so you can help us establish
those as we work our way to great new architectural solutions," Kenni adds.
A programme built for you
Our graduate programme is a unique 1-year experience designed to ignite your TDC career. You will join one of our 3 business units: TDC Group, Nuuday or TDC NET. Here, you will spend 6 months at 2 different brands or group functions, giving you the chance to excel within your field of expertise in different business contexts.
We evaluate and adjust the programme to match your interests and potential, and you will get a personal development plan to ensure that your talent accelerates throughout the programme.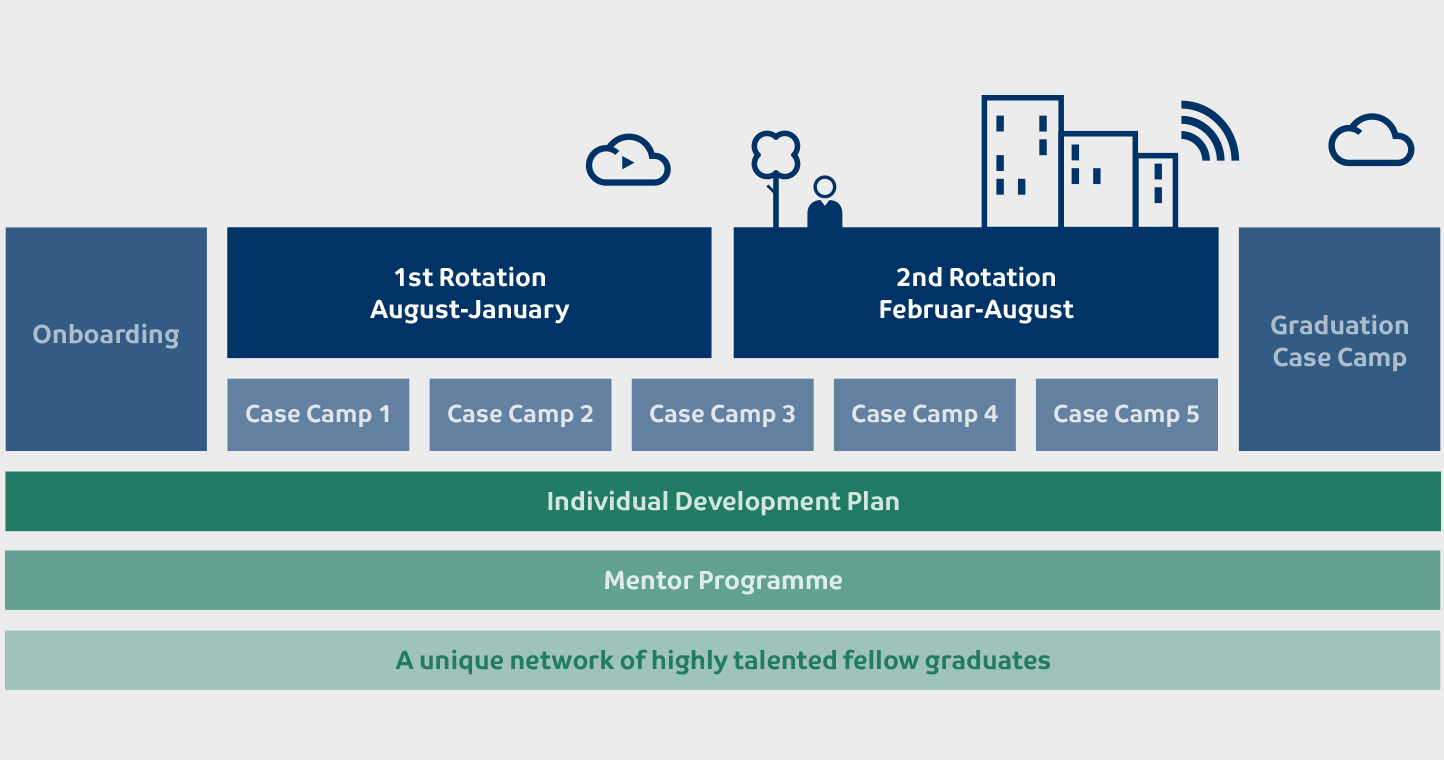 No matter which track you choose, you will work on high-priority projects and get real responsibility from day 1. You will be supported by mentors, sponsors from senior management and HR professionals and participate in social events and case camps with your fellow graduates from across the TDC Group.
IT graduate with an unstoppable personal drive
You are about to or have recently graduated with a master's in IT, data science or engineering with relevant courses in architecture

You are familiar with agile methods and preferably also architecture frameworks and tools such as TOGAF or ArchiMate

You communicate effortlessly in English

You strive to know how technology works and how it affects the business that needs to use it

You have a positive mindset that enables you to undertake any complex challenge with a smile and perseverance

You may have some previous experience through a student position within operations, development or design
Want to connect?
Join TDC Graduate Day in Aarhus 11 February or in Copenhagen on 13 February 2020. Here, you will get to meet managers, HR partners and graduates from across the graduate tracks. They are ready to provide answers to all your questions about the TDC Group Graduate Programme 2019. Sign up for the event here. 
If you have questions about the programme, you are also welcome to contact Graduate Programme Manager Marianne Klercke at tdcgraduate@tdc.dk.
It's a match
If you're ready to get started, please apply by uploading your CV, diploma and motivational letter. We invite candidates for interviews on a continuous basis, so please apply as soon as possible. The application deadline is on 1 March 2020.
Application deadline:
01-03-2020
Starting date:
12-08-2020
Salary:
/