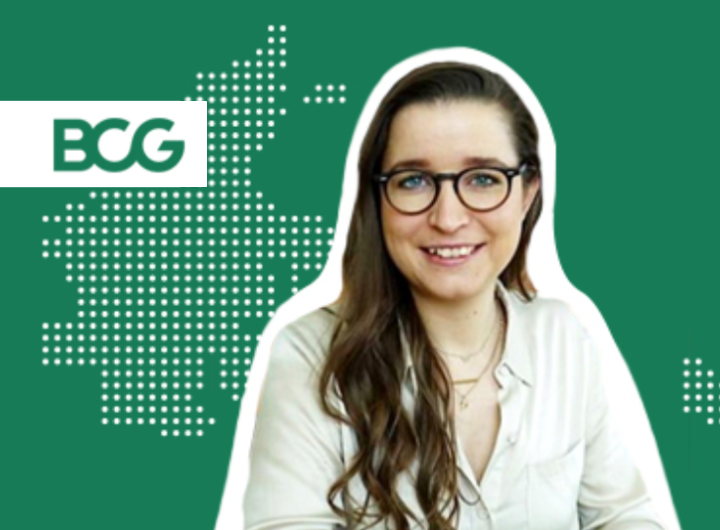 BCG (Boston Consulting Group) is a top tier management consulting firm and a trusted advisors to top management in the largest Danish and international companies.  We identified some of the most asked questions, and got answers from Frederikke Merrild Dich who works in Recruitment and Employer Branding at BCG Denmark. 

---
1. What would you wish you had known differently when you started working for BCG?
Always run short iteration cycles. You maybe think that all your work should be close-to-done when presenting. But this is impossible in highly complex environments. You need to structure the way your work as iterative and test-based. This way, you leverage the knowledge of your team and client, deliver a better outcome – and likely also lessen the workload.
2. Is there a difference between a BCG consultant and a BCG Platinion consultant?
Yes, at Platinion you only work with digital/IT/Technology projects across different industries, where as a BCG consultant you will not have functional specialisation when joining and you will work on a variety of projects as a generalist.
3. Do you usually hire interns or student assistants at BCG
Yes, we do. We only have a few student positions, but we have around 25 Visiting Associate Interns yearly. 
4. What is most important to have in mind when applying for a visiting associate position?
It's very important to write a good cover letter. Remember to use enough time to make it personal and ensure that it describes your motivation and drive for working as a Visiting Associate Intern at BCG.
5. Opportunities for international travel?
We have many international opportunities such as working on a global project for a period, transfer to another country, or secondments, where BCGers gain experience outside of BCG by working at one of our private sector clients. 
6. Would you hire MSc in Engineering? In that case is there a career path that includes an MBA?
Yes, definitely. For non-business backgrounds we offer training including a two-weeks "mini-MBA" course as part of the onboarding. In general , trainings are a big part of your BCG career. Moreover, we provide flexibility to continue your education if that's your goal.
7. Do you hire students/graduates who do not speak Danish?
Yes, we do. In the Copenhagen office we don't have any language requirements.
8. Does BCG Denmark hire from foreign universities?
Yes we do. We have a diverse set of backgrounds represented such as Stanford, Cambridge, Oxford, LSE, Harvard, MIT, HEC Paris, UCL, INSEAD etc. 
9. Do you have a strong Private Equity practice?
Yes, we have a strong and fast-growing Private Equity Department in the Copenhagen office, which is managed by a separate team, who only works with Private Equity.
10. Do you only hire people with a high GPA?
We look for talented people. We evaluate the candidates based on an overall evaluation of the grades, CV, and cover letter. The GPA is very different from study to study, which we also take into consideration.
11. How does BCG approach work-life balance? Is it possible to take breaks between projects?
At BCG, we offer many enhanced work options such as Flex time (part time arrangements to reduce weekly work hours), Flex leave (opportunity to take an additional block of time off during the year) or Flex paths (opportunity to do work aboard, secondments, leave of absence, or take courses to advanced degrees).
12. Do you have a specific CV format? Should it contain a photo, specific structure, etc?
We don't have a specific CV format, but we prefer 1-page, which include:
Photo
Educational background (including GPA)
Work experience
Extracurricular activity

A short text about you 

Notes about qualifications and key skills
13. What is the interview process for Consulting internships?
On the interview day, you will start with a 30 min introduction to BCG. Afterward, you will get a logical test followed by 2 x case interviews (1 round). If you pass the 1 round, you will do 2 x case interviews more. At the end of the day, you will know if you got the offer.
14. What is the interview process for an associate position?
On the interview day, you will start with a 30 min introduction to BCG. Afterward, you will get a logical test followed by 3 x case interviews (1 round). If you pass the 1 round, you will do 2 x case interviews more. At the end of the day, you will know if you got the offer.
15. What can I expect in terms of salary and benefits?
We have a very competitive salary package – both for graduate positions and experienced hires. In general, we have many benefits through social activities but also a unique parental leave policy which includes 8 months paid leave for both mother and father/spouse.
16. What is your work/life balance like?
BCG was number 1 on Consulting Magazine's "Best Firms to Work for" list in 2019, which is a reflection of our commitment to career sustainability and satisfaction of our employees. We believe that innovation can only thrive in an organizational culture of openness, flexibility, where all ideas are heard regardless of tenure and where people are supported to pursue a path that's right for them
17. What kind of social activities do you have?
We have a lot of social activities in the Copenhagen Office such as Friday bar, football or yoga on Friday mornings, tennis tournaments, climbing events, ski-trips, Christmas and summer parties and much more.