Here at Graduateships we have a lot of empathy for all of you who need to get a new job because of COVID-19 or graduates looking for your first job. To make things a little bit easier, we decided to share a number of templates and advice for how to make the best CV and cover letter. We also added an overview of all the interviews we did with top company recruiters. This should help you create the perfect CV template fitted for the Danish market especially as a graduate.
Free CV Review 
Top CV has one of the best free CV reviews out there. Follow this link to have your resume reviewed for free. 
---
CV Templates for the Danish market
How long will a recruiter spend looking at your CV? You might spend hours filling in your Danish CV template, but recruiters often have piles of CV letters to weed through. One study from 2012 found that recruiters look at your resume for six seconds.
If you make critical errors when writing your CV, you'll be pushed to the bottom of potential candidates.
Your CV needs to be professional, and only creative to that extend that it matches the job position. You need to make your expertise and skills standout so that you have a chance to be interviewed.
But first, we have taken examples from the best universities and companies in the world (Harvard, Standford, Goldman Sachs, McKinsey & Co) and shared their CV templates with you! Click the images to download the template.
Mads Faurholt (MIT, McKinsey Template)
Recommendations
Use the words your target company is looking for

Show specific number and/or results

Don't underestimate the small stories

Show that other people think you are great
Click image below to download the template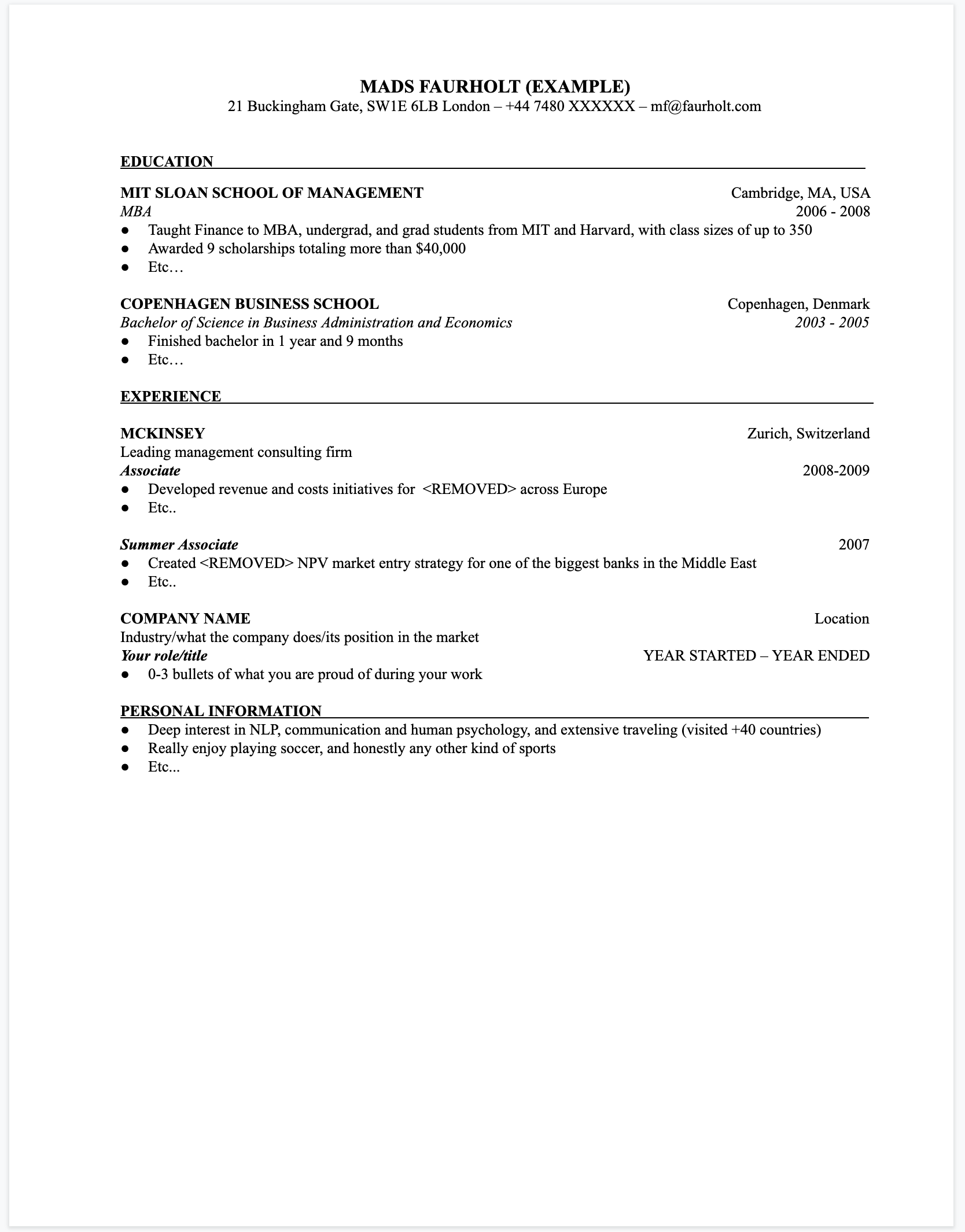 Goldman Sachs
Recommendations
Do your research. You should research the company you're sending your CV to. So that you can customize your CV template. Write down the qualities and credentials that the job demands so that you can add these to your CV.

Choose the proper format. You have seconds to make a good first impression. It's important to arrange your resume with your key information up top, including experience and educational information.

Focus on uniqueness. You're unique, and it's important to make this uniqueness shine in your CV. If you speak another language, volunteer or do something else that makes you unique, include it in your resume.

Far too many people download a Danish CV template, fill in their information and never take the time to proofread. Proofreading helps you find critical errors and eliminate them.
Click image below to download the template
Harvard
Recommendations
Correct top errors. Spelling, grammar, passive language, missing phone and mail and lack of demonstrating results are the top errors Harvard recommends correcting.

Language should be specific. Businesses need to know what hiring you will do for them. You want to articulate your strengths and explain how you helped other companies find success.
Use order of importance. When making a list of headings, such as your experience, make sure that you sit down and determine the order of importance for each header. The most important information should be listed first.

Remain professional. You shouldn't abbreviate, include gender, a picture, age or use any form of slang or colloquialisms.
Click image below to download the template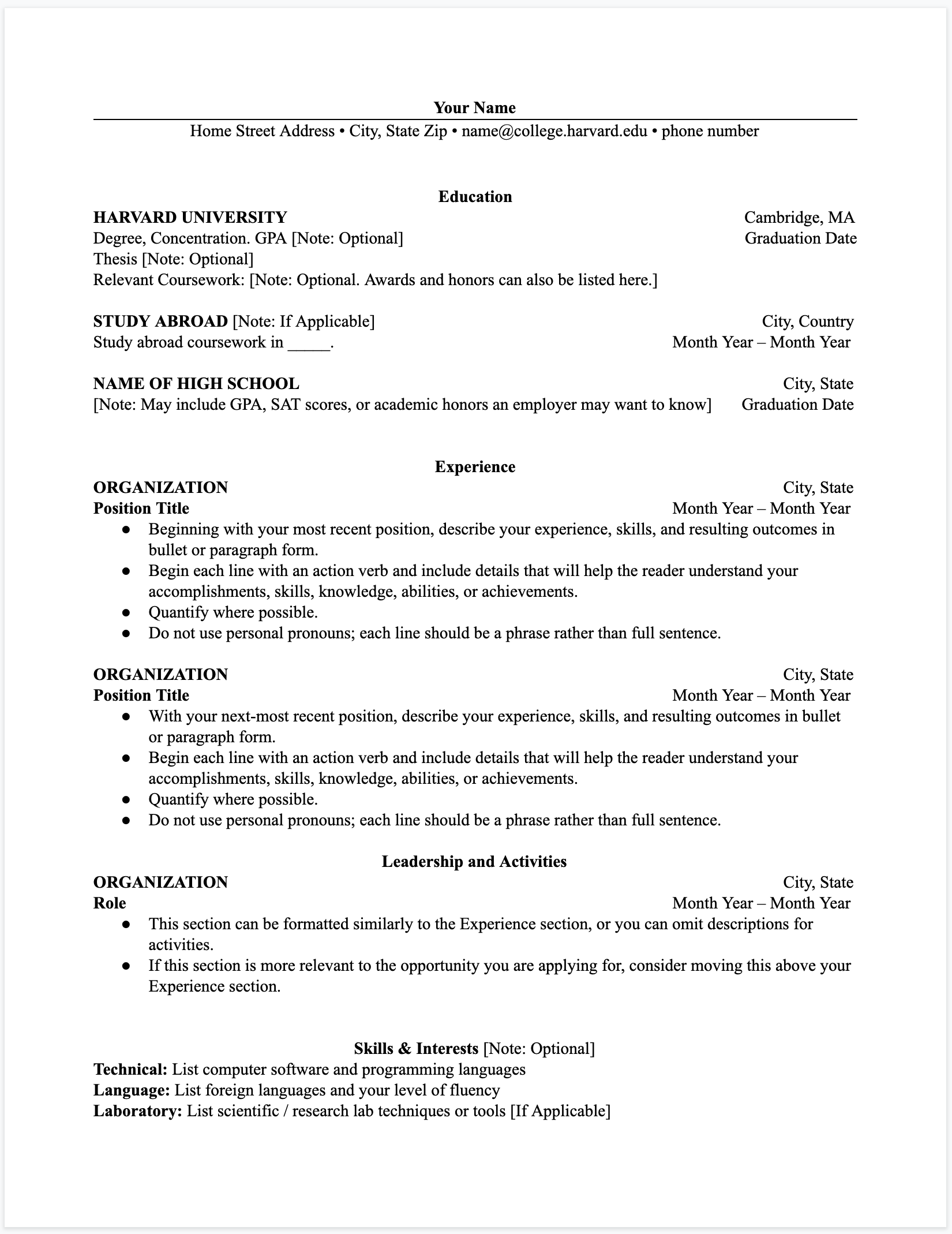 Stanford
Remove old, irrelevant jobs. You may want to add every job you've ever had to your CV template, but you don't need to include jobs that are irrelevant or old unless they're the only jobs that you've had.

List your education properly. Your education should be listed in reverse chronological order. If you'll be graduating soon, be sure to list your anticipated degree and date of graduation.

Highlight key skills. You should highlight key skills that relate to the position you're hoping to interview for in the future.
Click image below to download the template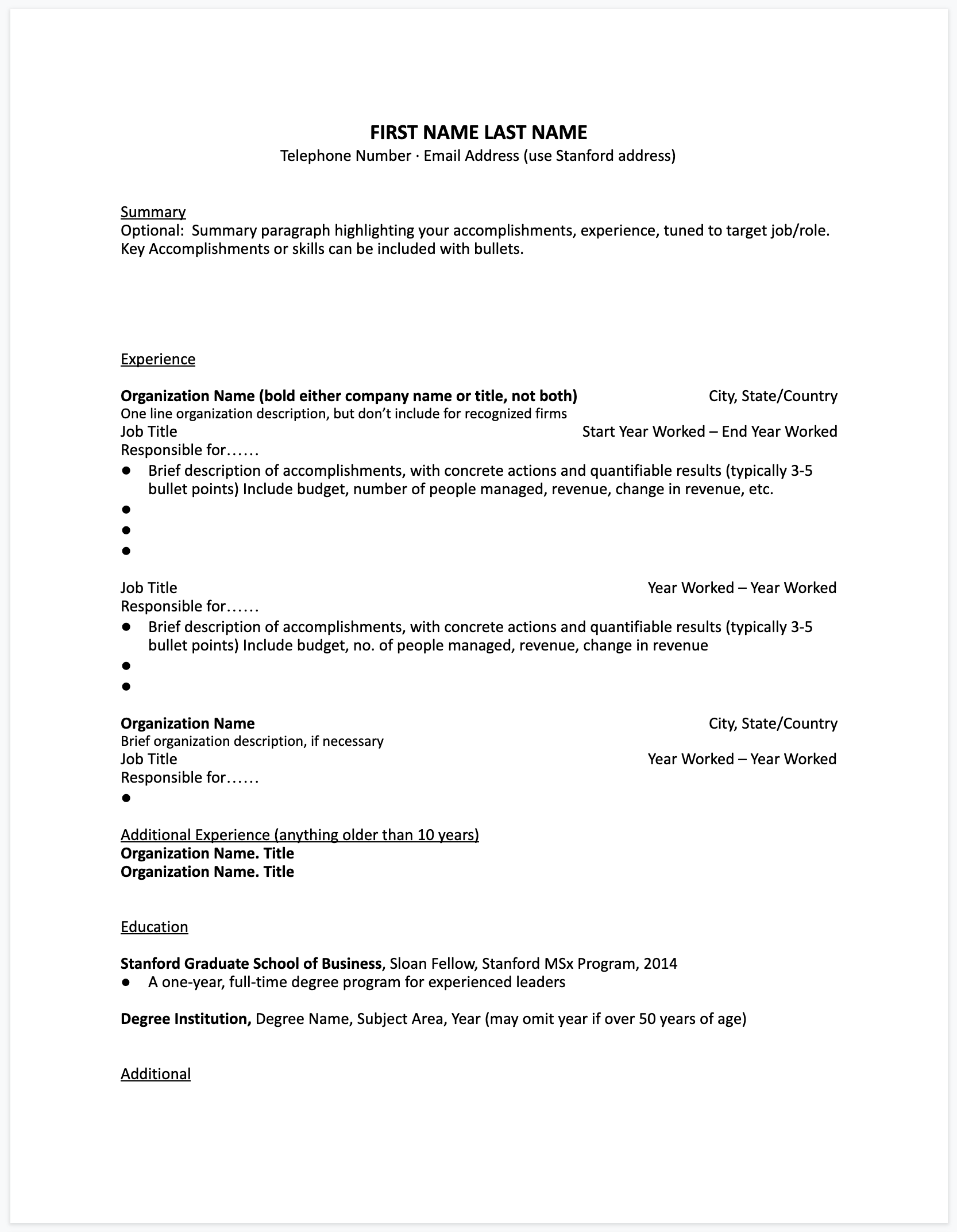 The importance of perfect
Your CV opens the door to a potential career. You can use a general CV template to send to recruiter, but it's important to personalize your CV for each position. Since you have only seconds to impress a potential employer, you may want to reorder your experience or skills so that the employer sees the education, experience and skills they're looking for higher up on your CV.
Small changes can mean the difference between getting interviewed or never hearing back from a potential employer. 
Therefore it is clear, that you need to optimize every bit. To help you with that, Graduateships talked to a number of recruiters to gain some insight on how to best write a strong CV for the Danish market.
Ex-recruiters for top companies on how to write a strong CV for the Danish market
One of the most prominent people who participated in our interviews was former director of the Novo Nordisk graduate programme. Read beneath her tips: 
Use a professional-looking gmail, outlook, or personal domain email address. Delete your hotmail with extreme prejudice.

Don't put an objective section or summary. It'll be skipped, and it's space that can be used better

Unless you have 20+ years' experience, make it 1 page. You can do it

Don't put your full address. "City, State" is enough.

Name your resume "​FirstName LastName Resume" and that's it. Never submit it with "(Project Management)" or "Final" or "2018" or literally anything else in the file name.

If emailing your resume, always submit it as a PDF, never as a Word doc. You never know how wonky a Word doc will look on someone else's machine. If uploading to an online application that uses resume parsing software, you can upload the Word doc as well or if it's required to do so.

Try to read it in 10 seconds or less and see what you take away from it. That's about the initial screen time before someone makes an initial up/down decision, so you'll want to examine it from that perspective.

Interests are important because it gives the interviewer something to connect with you on, and it makes you more than just a faceless resume. If you put Seinfeld, I promise someone will ask you what your favorite episode of Seinfeld is (mine's the Soup Nazi).
Do not just apply these tips for writing your cv and cover letter, we have plenty of more tips from recruiters. Graduateships have been sitting down with a dozen of talent managers from some of the biggest graduate companies in Denmark. Here, they give insights on what things to focus upon to achieve the results you want.
We created a list of the recruiters we talked to which you can find below. 
| | | | |
| --- | --- | --- | --- |
| Recruiter | Title | Company | Interview year (link to article) |
| Ditte Mi Petræus | Recruitment Specialist | Demant | 2020 |
| Caroline Sehested | Former People & Organisation Director | Novo Nordisk | 2020 |
| Ashlee Shaun Meyer | Talent Development Consultant | TDC | 2020 |
| Emily Nowicki | Talent Attraction Advisor | PwC | 2020 |
| Mette Bruun Hesselvig | Graduate Programme Manager | GN Store Nord | 2020 |
If you're a graduate, whether from Denmark or international, it can give an edge to your application if you know the tweaks, do's and don'ts for your cv, which was what we aimed to give. Hopefully, you will find the interviews as interesting as we did creating them. Best of luck with your applications!
Free CV Review