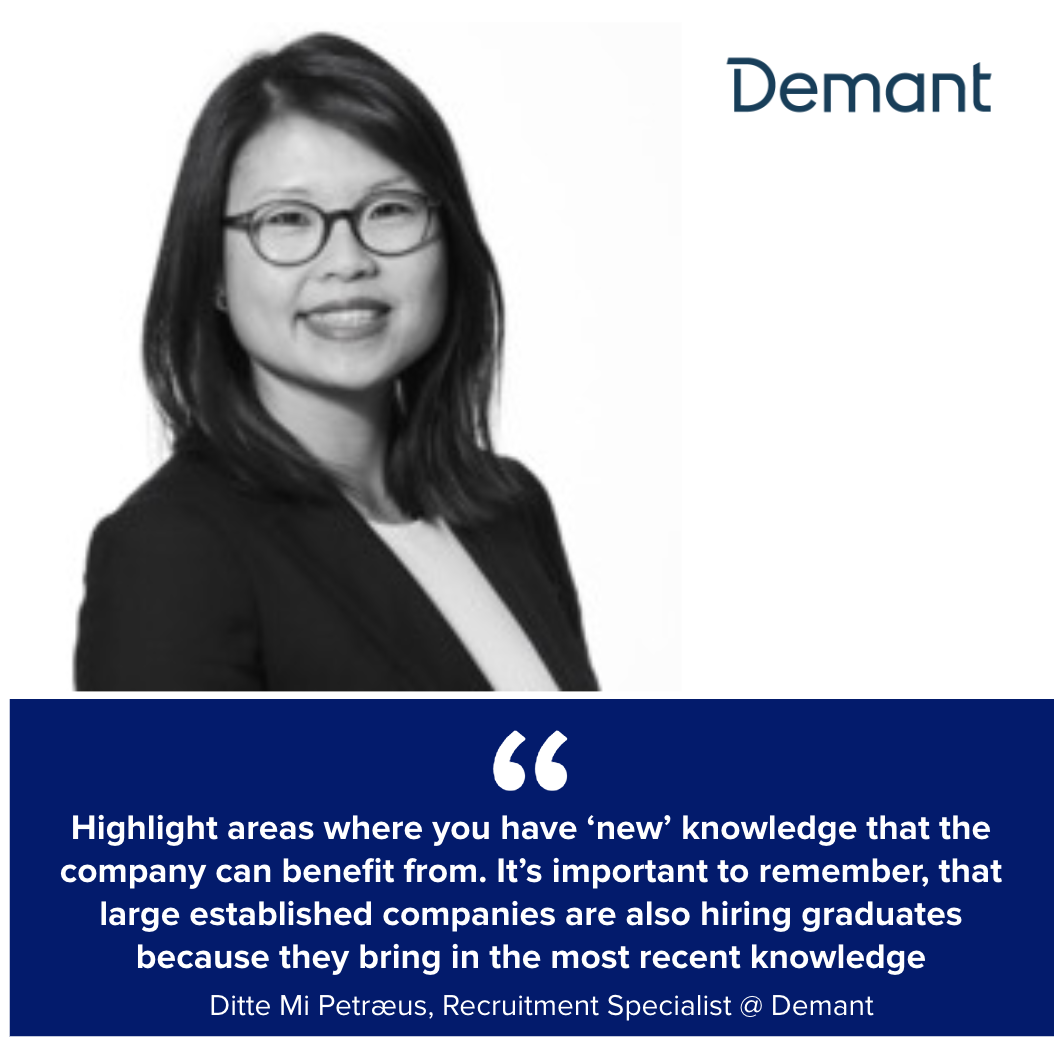 We sat down with Ditte who is working as a recruiter at Demant. Demant is a world-leading hearing healthcare group that offers solutions and services to help people with hearing loss connect and communicate with the world around them. The Demant Group operates in a global market with companies in more than 30 countries, employs more than 15,000 staff and generates annual revenue of DKK 15 billion.

---
What skills – both professionally and personally does it take to succeed in Demant?
"In general, we divide it into two different areas – Competencies and Personal skills. The competencies are the general requirements that we expect a graduate applicant to have and are stated below:
Graduated from a

masters, diploma or a bachelor

Student positions

or other extracurricular activities

during their studies

International experience (ideally)
The other area are the personal skills which are very important for the long-term success at the company:
Being curious

Being ambitious, but in a humble way

Being passionate about learning

And finally being a teamplayer
I would say the above are quite generic across the business, but then we will have specific skills we look for depending on the programme you are accepted into."
You are now well into this year's graduate hiring process – for anyone looking to apply next year – what does the application process look like:
Applications Deadline:

Applications deadline will normally be at some point in January

Application Review:

We will then review all the applications that we received

Video interview:

We ask the applicants who made it through the first review to answer 2-3 questions and record it. This is usually an area that surprises the applicants so I suggest doubling down on this area and making sure they put time and effort into it

Video review:

We then review all the videos and select the candidates that will go to the next round

Assessment day:

The candidates are then invited for an assessment day where they will go through a number of exercises

, games and fun as well as meeting

the Demant team.

Personal interview rounds:

The graduates continuing in the process will be invited for a personal interview on the respective tracks they have applied for.

Decision:

Following the assessment day and interview, we will then calibrate and make a decision on who will receive the offers. The offer is usually shared with the successful candidates in

start-mid

February
The above guidelines are obviously based on this year's programme so they might change.
How many do you normally select for the graduate programme?
"It really depends on the business demand. This year 2020 we will be taking in 4 graduates distributed across 3 tracks". What is your advice on how to deal with rotations for the upcoming graduates?
"I think rotations are a key part of the graduate programme experience. I know from speaking to former and current graduates that it can be a bit stressful to always be thinking about your next rotation. I think the best advice I can give is to try and stay in the moment, use someone to talk to either your mentor, the other graduates or a third party to make sure you maximise your experience on the current rotations".
 "I also know that the rotations are one of the reasons our graduates like the programme so much because it enables them to learn a wide range of skills and many parts of the business in a short period of time. So, I also think it's about enjoying it to the fullest and taking advantage of the various 'hats' you will be wearing. Before you know it the programme will be over and you will be focused on a new role". 
Where does a normal graduate end up after having finished the programme?
"It depends on the rotations they have had during the programme. During your graduate programme you meet up with various colleagues and will create a network inside the company.  The graduates will slowly start to develop their preferred areas and will get an understanding for where there is an internal need. It's also up to the graduate to make sure that they create a 'red thread' through the competences they acquired".
In your opinion, how do you create a good application and CV?
"That's a good question and one that I think different recruiters will have different opinions on. I think the below are my general recommendations when it comes to creating a good CV – especially when you are relatively new and don't have a lot of experience to put on your CV:
Make sure to make it relevant to the role you are applying for

Make sure to list out the various courses from your studies – particularly

the ones which are relevant to the job or the company to know you have the knowledge

Highlight relevant experience with a few bullets. Be as specific as you can. We know you are newly graduates and this means less experience for some – this is okay

.

Highlight areas where you have 'new' knowledge that the company can benefit from. This is very important and something which I think is often neglected by students, but large existing companies are also hiring young people

because they bring in the most recent knowledge

"