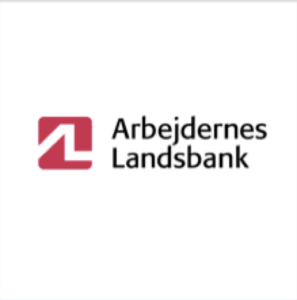 Arbejdernes Landsbank – at a glance
Founded in 1919 Arbejdernes Landsbank is among the 7 largest banks in Denmark. The headquarter of Arbejdernes Landsbank is located in Copenhagen and is a full service, retail bank, represented through 70 branches covering most of the country. Arbejdernes Landsbank has about 1.100 employees, and about 250.000 commercial and private customers. Arbejdernes Landsbank remains a Share Holding Company (its shares are unquoted and restricted) with more than 24.000 private shareholders.
Legal status and Group description
Arbejdernes Landsbank is a limited liability bank. The Arbejdernes Landsbank share is subject to transfer limitations.
In addition to Arbejdernes Landsbank, which conducts banking business, the Arbejdernes Landsbank Group includes the wholly-owned undertakings: AL Finans A/S and Handels ApS Panoptikon. Moreover Arbejdernes Landsbank has important ownership interests in BEC – the Bank's IT supplier – and in Maj Invest.
Arbejdernes Landsbank is regulated by the Danish Banking legislation and supervised by the Danish FSA.
Arbejdernes Landsbank's registered office and principal place of business is Vesterbrogade 5, DK-1502 Copenhagen V, Denmark.
Geographical location
All Arbejdernes Landsbank's customer related activities are conducted through one of our 70 branches located throughout Denmark. The bank provide a fullservice. 
Arbejdernes Landsbank's head office is situated in the heart of Copenhagen, right beside the Copenhagen Main Station and Tivoli.
Organisation
Arbejdernes Landsbank employs almost 1,100 people in Denmark.
The Bank's organisation consists of a Representative Board, a Board of Directors and Management.
The Bank has a number of business and support functions and its' 71 branches fall under the responsibility of two Business Managers.
Arbejdernes Landsbank has one wholly-owned subsidiary, AL Finans A/S, which specialises in car financing, leasing and factoring.
Ownership
Arbejdernes Landsbank is a unlisted shareholding company. The following organisations and persons may be shareholders:
Employee organisations

Political organisations that the Danish worker organisations collaborate with

Cooperative enterprises, consumer cooperatives and cooperative enterprises; and organisations, companies or associations that they have created or are creating

Arbejdernes Landsbank Fund

Public and other institutions, organisations or enterprises in which the employee organisations have business interests

Persons who are members of employee organisations.
Arbejdernes Landsbank
Founded in 1919 Arbejdernes Landsbank is among the 7 largest banks in Denmark
Rank: 29
Company size: 1000
Global: No

Graduate programme: Yes
Intern programme: Yes