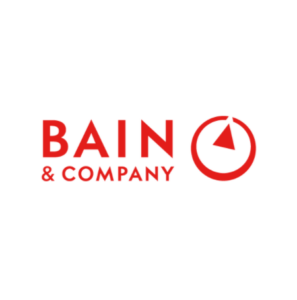 Bain & company were founded in 1978 as a strategy and consultancy firm in order to help companies and individuals realize their quest for success in business. Its reputable work over the years has earned it a title as one of the top strategy consultancy partners for national and global firms across Denmark. With over 8,000 employees globally, Bain has undergone tremendous growth during the past 15 years, most recently opening an office in Copenhagen in 2007. The Danish part of the firm primarily serves Danish companies across the Nordics, with particular interest and expertise in private equity and financial companies.
Since its inception, the company has continuously strived to sustain high client and employee loyalty. As a result it has managed to partner with reputable firms such as De Beer, Dell, Ford, Charles Schwab, Del Monte, KIPP and Bill & Melinda Gates Foundation. With 57 offices in 36 countries across the globe, the firm has managed to effectively and efficiently reach clients in all corners of the world.  Bain's global reach has translated into plenty of international experience for its employees in the field of health, economic and industrial sector, and alternative energy.
Culture
Many employees at Bain Copenhagen consider one another extended family members. They certainly work hard, but also have fun together during the weekly Friday Bar, costume parties, alumni events and the annual summer party.
Bain has fostered its entrepreneurial culture since its founding, when a handful of consultants left one of its competitors to build a new firm founded on the innovative principle of "results, not reports". At the time, Bain's approach was unique in the market – no other major player was attempting to differentiate in that way. That culture, and the transferable skills Bain consultants develop, is clearly a great benefit for those interested in pursuing their own businesses later on – in fact, many Bain alumni go on to be successful entrepreneurs, often after only two or three years of Bain experience. As Bain alumni and founder of Pencils of Promise, Adam Braun, said, "If I wanted to start a great nonprofit, it couldn't be run by passion alone. It needed to be run with the same level of diligence, structure and commitment to results that the best for-profits are run with. The best place for me to learn that was working at Bain.
Bain Nordics
One of the best consulting companies in the world
Rank: 1
Company size: 501-1000
Global: Yes

Graduate programme: Yes
Intern programme: Yes