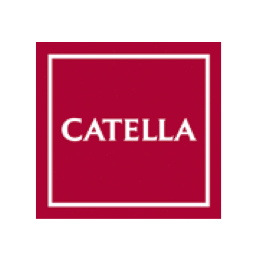 Local expertise—European reach
Catella is a leading specialist in property investments, fund management and banking, with operations in 12 countries across Europe.
he Group has a well-diversified customer base of private and commercial clients, and almost 600 employees. Recurring income is continuing to grow, and the Group is focusing on broadening its earnings base and building a solid platform. 
Positive underlying trends 
All Catella's operating segments are being favoured by underlying market trends. The market for investment in property is being driven by low interest rates and rapid urbanisation across Europe. Catella manages all phases of the value creation process in property—from analysis through transaction, acquisition, financing, strategic management, and finally, exit. Operations in property are conducted through the Corporate Finance business area, which works on transaction and capital markets-related services, and in the Property Investment Management business area, which identifies investment opportunities, manages and develops properties. Its clients are property companies, financial institutions, pension funds, property funds and other property owners. 
The investment funds market is also expanding, keeping pace with growing savings. This growth is backed by trends such as an ageing population and declining state capacity to offer people an income after retirement. Catella's Equity, Hedge and Fixed Income Funds business area is one of the leading independent players in fund management. The business area is divided between Mutual Funds, which offers private and institutional investors equity, hedge and fixed income funds with a Nordic focus, and Systematic Funds, which manages systematic macro and equity strategies for institutional investors. About half of this business area's income consists of fixed fees, which combined with a broad-based and complementary product portfolio and performance-based fees, brings a good balance to income.
The banking market is undergoing consolidation and standardisation of services, opening the door for niche players with client-specific offerings. The Banking business area is operated under the auspices of Catella Bank. Catella Bank provides financial services and tailored solutions for private individuals in Europe, card issuing for banks and card acquiring for e-commerce and fintech companies.
Growth and synergies
The allocation of global capital to investments in property and other financial assets in Europe is increasingly resulting in Catella's clients adopting a pan-European perspective to their investments. Simultaneously, the demand for in-depth local knowledge of each market is growing. Catella's established brand, efficient organisation and strong Balance Sheet are supporting its ambition to deepen and regenerate local and European offerings. Catella is continuously developing its scalable business models, endeavouring for closer collaboration between the group's various parts, and getting closer to international capital markets. Catella's ambition is to be the leading partner in Europe for investors in property and finance. 
Catella
Catella is a leading specialist in property investments, fund management and banking, with operations in 12 countries across Europe.
Rank: 45
Company size: 500-1000
Global: Yes

Graduate programme: No
Intern programme: Yes