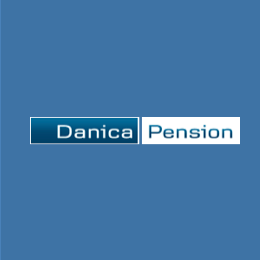 With more than 600,000 customers, we are one of the largest pension providers in Denmark. We have specialised in pension schemes, life insurance and health insurance, and our total pension funds amount to DKK 327 billion, with annual contributions upwards of DKK 27 billion.
Backed by a group
Danica Pension is a wholly-owned subsidiary of the Danske Bank Group. In 2013, we contributed to the Group's earnings with a profit before tax of DKK 1 billion. Our ten regional offices are situated in major cities around Denmark, and we have subsidiaries in Norway and Sweden.
More than 800 employees in three countries
We have around 800 employees in Danica Pension. The company is headed by CEO Per Klitgård, who, together with Jesper Winkelmann and Jacob Aarup-Andersen, makes up the Executive Board of Danica Pension.
Satisfying investment results
2013 was a good year with volatile markets and political uncertainty in Europe. The 2013-return on traditional products was 8,6 percent.
Socially responsible
Making socially responsible investments is very important to us. For instance, we never invest customers' pension funds in companies that deliberately violate international standards on human rights, environmental protection, employee rights and anti-corruption. We also participate in the CR programme of the Danske Bank Group on sustainability.
Easy to understand
In recent years, we have made efforts to ensure openness on issues that are of interest to our customers. By launching a wide range of initiatives, we have for instance established complete openness about all expenses and returns, and we are currently working on a major project aiming to ensure that we always speak and write to our customers in an easy-to-understand language.
The history of Danica Pension is the story about the insurance company which, after 148 years as a state-owned company, was acquired by Baltica in 1991. Danica, and later on Danica Pension, became part of the Danske Bank Group in 1995.
1842 – Denmark's first insurance company
When "Livsforsikrings Anstalten i Kjøbenhavn" held a general meeting right before Christmas in 1847, the company had 500 customers. 50 of these customers attended the general meeting to decide whether the company was to remain a state-owned company, or whether it was to be privatised.
The State would like to keep the insurance company and therefore made an offer that was hard to refuse. The entire amount saved during the company's first five years would be paid as a bonus, and at the same time the board of directors intended to lower premiums. As a result, no one voted against the proposal.
1991 – The insurance company is put up for sale
After 148 years as state property, the company was put up for sale. There were many bids, but the best one came from Baltica. Statsanstalten, which had changed both its name and address several times over the years, moved into new premises in Kokkedal in 1991, and its name became Danica. However, the company had not arrived at its final stop.
1995 – Part of the Danske Bank Group
In October 1995, Danica became part of the Danske Bank Group and the company is now located in Kgs. Lyngby. Danica has specialised in pension schemes, life insurance and health insurance. In 1999, Danica sold its non-life insurance business to Topdanmark and changed its name to Danica Pension.
Danica Pension is part of the Danske Bank Group, which, in terms of total assets, is the largest financial enterprise in Denmark and one of the largest in the Nordic region. The Group offers Danish and international customers a wide range of services in the fields of banking, mortgage finance, pension and insurance, leasing, real-estate brokerage and asset management.
Banking
The Group serves personal and corporate customers through banks with nationwide branch networks in Denmark, Sweden, Norway, Northern Ireland, Ireland, Finland and the Baltics.
Private Banking
The Group also has branches in London, Hamburg and Warsaw. A subsidiary in Luxembourg serves private banking customers, and a subsidiary in St. Petersburg serves a number of corporate customers.
Insurance, pension, mortgage finance and asset management
The Group's insurance activities are handled by Danica Pension, which offers life and pension products under its own brand name. Mortgage finance activities are provided by Realkredit Danmark. The Group also provides asset management services to institutional clients and life insurance policyholders.
Staff
Our qualified and professional staff provide an individual service tailored to the wishes and needs of customers.
Growth and development
The Group continues to expand its activities to take advantage of promising business opportunities that also offer a satisfactory return. Our considerable capital strength enables us to both expand our business universe and adapt existing activities in a competitive market environment.
Danica Pension
With more than 600,000 customers, we are one of the largest pension providers in Denmark.
Rank: 35
Company size: 500-1000
Global: No

Graduate programme: No
Intern programme: No