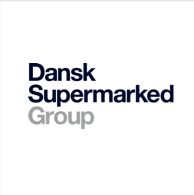 We are an international retail company
Dansk Supermarked Group has stores in Denmark, Germany, Sweden, Poland and the UK.
Every single day, we supply 1.4 million customers with groceries and non-food products through the føtex, Bilka, Netto, and Salling formats, as well as our webshop Bilka.dk.
Franchises and joint ventures
We franchise Starbucks and Carl's Jr. and we have formed a joint venture with the British retail company Sainsbury's to operate Netto discount stores in the UK.
Our employees
We employ 32,000 people in Denmark and 10,500 in Netto Sweden, Germany, Poland and the UK.
The majority of our employees work in the stores, but more than 1,000 positions are at corporate level in areas such as Commercial, Finance, Business Development, Human Resource, IT and Corporate Communication – core functions which are essential to our business.
Working at Dansk Supermarked Group
We are growing. Grow with us.
Join us and get the opportunity to make a genuine difference to the business.
More than ever before, the retail industry is undergoing huge developments, and to drive changes and stay at the forefront of recent trends, Dansk Supermarked needs skilled leaders and specialists.
Thus, Dansk Supermarked Group is increasingly employing students and graduates in positions to aid this business transformation and development for the retail sector of tomorrow.
We are determined to build a corporate talent pipeline by launching a graduate programme to attract, on-board and fast track the development of young talents; talents who will mature into high performing individuals who will match the future needs of Dansk Supermarked Group – in Denmark and abroad.
Dansk Supermarked Group
Dansk Supermarked Group has stores in Denmark, Germany, Sweden, Poland and the UK.
Rank: 5
Company size: 1000
Global: Yes

Graduate programme: Yes
Intern programme: Yes