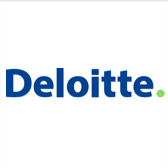 About Deloitte LLP
Deloitte's U.S. operations have more than 78,000 professionals in more than 100 offices who work in four key business areas: audit, advisory, consulting, and tax. Deloitte's client service professionals work across more than 20 industry sectors such as data analytics, cyber security, technology strategy, finance and accounting, tax, strategic risk, business risk, strategy and operations, and human capital. 
Ranked by Accounting Today as the No. 1 accounting firm in the U.S. by annual revenue, Deloitte is the U.S. member firm of Deloitte Touche Tohmatsu Limited, an international network composed of dozens of member firms that operate in more than 150 countries and employ more than 244,000 people. Each member firm provides services according to the rules and regulations of the country in which it operates. In fiscal 2016, Deloitte Touche Tohmatsu Limited booked revenues of 36.8 billion. 
In 2015, Deloitte LLP named a new CEO: Cathy Engelbert, who became the first female chief executive of a Big 4 firm. Engelbert previously served as CEO of Deloitte's audit practice.
Deloitte Accounting
Largest accounting firm in Denmark
Rank: 1
Company size:
Global: Yes

Graduate programme: Yes
Intern programme: Yes