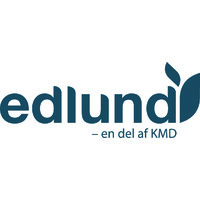 About Edlund
Edlund A / S is an innovative software development house with more than 200 employees. They develop systems targeted at the life and pensions industry.
Edlund implement and maintain our solutions in cooperation with our customers, and we supply consulting services. Edlund's position in the market is unique due to our strong understanding of the industry combined with the high academic skills of our employees within actuarial sciences, financial mathematics, and computer science.
Their products and consulting services are business critical for our customers, and Edlund emphasizes and values a very close relationship with our customers.

Edlund are known for the high level of quality in our deliveries, as well as the credibility and expertise we have achieved over more than 25 years in the market.
Edlund is a part of KMD which has a yearly revenue of approximately five billion DKK and 3.200 employees across Denmark, Sweden, Norway and Poland.
Among KMD's other subsidiaries are BanqSoft and Charlie Tango.
KMD is Denmark's largest software company and a leading supplier of mission-critical software, solutions and IT services primarily to Denmark's public sector and with a growing footprint in the private sector and in the Nordics.
Since 2019, KMD has been owned by the Japanese NEC Corporation.
Edlund
Rank:
Company size: 51-250
Global: No

Graduate programme: Yes
Intern programme: No