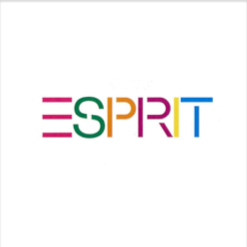 "We want to make you feel good to look good"
Esprit is an international fashion brand that represents style and quality since 1968. Founded in San Francisco by Susie and Doug Tompkins, Esprit works on a basis of creativity and responsibility, fused with a sunny Californian attitude.
Effortless style, authenticity and easy-going living are at the heart of the brand's philosophy. These positive values shine through at every level, from the laid-back tailoring to the made-to-last quality, use of natural materials and responsible production. Esprit's aspiration is to be the best casual fashion brand with an outstanding price-value proposition: Capturing market trends and newness in color, quality fabrics and shapes, and expressing them in the effortless, relaxed and comfortable Esprit style. For every garment, Esprit pays maximum attention to fabric selection, fitting and perfect quality. The company's "esprit de corps" reflects a positive and caring attitude towards life that celebrates real people and togetherness according to the brand promise: "We want to make you feel good to look good".
Esprit has a presence in 40 countries with 761 directly managed retail stores and over 6,332 wholesale points of sale, including franchise stores and sales spaces in department stores, who share the company's quality standards and brand essence, with inspiring collections for women, men and kids. The Group markets its products under two brands, namely the Esprit brand and the edc brand. Listed on the Hong Kong Stock Exchange since 1993, Esprit has headquarters in Germany and Hong Kong.
Esprit
Esprit is an international fashion brand that represents style and quality since 1968
Rank: 29
Company size: 1000
Global: Yes

Graduate programme: Yes
Intern programme: Yes