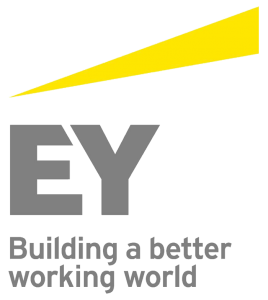 About Ernst & Young LLP (EY)
Ernst & Young LLP is a member firm of Big 4 accounting legend EY, a global organization of member firms formally known as Ernst & Young Global Limited. Ernst & Young LLP, which serves clients in the U.S., offers advisory, assurance, tax, and transaction advisory services, and its industry specializations include consumer products; financial services (asset management, banking and capital markets, private equity, and insurance); real estate (construction and hospitality and leisure); life sciences (biotechnology, medical technology, and pharmaceutical); media and entertainment; mining and metals; technology; automotive; telecommunications; oil and gas; power and utilities; cleantech; government and public sector; provider care; retail and wholesale; and support of entrepreneurial businesses. In 2016, EY ranked No. 3 on Accounting Today's ranking of the top 100 accounting firms according to U.S. revenue. The firm booked revenues of $11.2 billion in its last reported fiscal year.  
Although A.C. Ernst and Arthur Young will be forever linked in the accounting giant's name, it's unlikely that the two ever met. Born in Scotland, Arthur Young arrived in the U.S. in the late 1800s after studying law at Glasgow University. He turned to financial transactions, however, after hearing loss made it all but impossible for him to practice law. In 1906, he and brother Stanley opened an accounting firm, Arthur Young & Co., in Chicago. In 1903, in Cleveland, A.C. Ernst and his brother Theodore founded the small accounting firm of Ernst & Ernst, and the firm grew rapidly. A.C. Ernst was a true innovator and his practice would forever change the way accountants worked. In addition to reporting numbers, Ernst showed how a company's financial information could be used in making business decisions. Arthur Young was an innovator, too. His firm created the accounting industry's first in-house staff school for training and launched the first college recruiting program for fledgling accountants. Both firms expanded throughout the 20th century, opening new offices and extending their reach overseas thanks to international alliances. A.C. Ernst and Arthur Young both died in 1948, a few days apart. Four decades later, in 1989, their firms came together to form Ernst & Young in the U.S. In 2013, it shortened its name to EY in reference to the global organization. The U.S. member firm remains Ernst & Young LLP.
Our audit services
Transparency brings clarity. Clarity gives confidence.
Leading companies know that confidence breeds success. That's why more and more of the world's leading companies choose to work with EY.
Throughout the world, the road to success guided by still more complex and far-reaching demands from authorities and stakeholders. We have the courage and integrity to help you meet these demands by providing management with timely and constructive challenges, the Audit Committee a clear and robust perspective and stakeholders and investors transparent information.
More than just points on a map
We have over the past three years invested USD 1.2 billion. in doing EY into a truly global organization for true global customers. We offer multidisciplinary knowledge across geography and minimizes that way the risk of doing business in several cultures and jurisdictions so that we can help you to maneuver around in the global regulatory landscape. Based on a single, joint strategy and structure we serve our global and local customers with the same high focus on quality.
We offer the following audit services:
EY Accounting
Ernst & Young LLP is a member firm of Big 4 accounting legend EY, a global organization of member firms formally known as Ernst & Young Global
Rank: 4
Company size: 1000
Global: Yes

Graduate programme: Yes
Intern programme: Yes