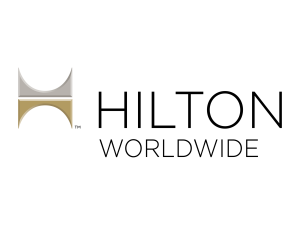 About HILTON WORLDWIDE, INC.
If you need a bed for the night, Hilton has a few hundred thousand of them. The company is one of the world's largest hoteliers with a lodging empire that includes more than 4,600 hotels and resorts in about 100 countries operating under such names as Doubletree, Embassy Suites, and Hampton Inn, as well as its flagship Hilton brand. Many of its hotels serve the mid-market segment, though its Hilton and Conrad hotels offer full-service, upscale lodging. In addition, its Homewood Suites chain offers extended-stay services. The company franchises many of its hotels; it owns the Waldorf-Astoria brand and the New York Hilton. Hilton became a public company again in 2013.
Geographic Reach
Even though the company has hotels all over the world, it generates more than 75% of sales in the US.
Operations
With its extensive portfolio of brands, Hilton seeks to serve multiple segments within the lodging sector. The company's largest chains, Hampton Inn and Hampton Inn & Suites, include about 2,100 locations and target mid-market travelers with moderately priced rooms and limited amenities. Nearly all its Hampton hotels are operated by franchisees or by the company under management contracts with third-party owners.
At the other end of the scale, the company's Conrad chain offers luxury services and distinctive locations, while its Waldorf-Astoria Collection is a prestigious collection of hotels inspired by the New York landmark. The company's Hilton Grand Vacations subsidiary operates about 45 time-share vacation resorts, with a concentration located in Florida.
Sales and Marketing
Hilton relies on traditional advertising and promotions along with a variety of direct marketing techniques such as email and postal mailings to drum up business. A fair amount of the company's hotel rooms get booked through internet travel intermediaries. Hilton pays commissions and transaction fees for sales of rooms through such services. The company also has a robust customer loyalty program it uses to try to generate return business.
Financial Performance
Hilton has maintained steady revenue growth for the past several years. In fiscal 2015, revenue increased by 7% compared to fiscal 2014.
The company's net income has been growing consistently over the past several fiscal years as well. Its net income was $1.4 billion in fiscal 2015, an increase of $731 million, or 109% compared to the prior fiscal period. The increased net income was the result of increased total revenue combined with decreased operating expenses.
Hilton's cash flow increased by $28 million during fiscal 2015 and the company ended the year with a comfortable $1.3 billion in cash on hand.
Strategy
The company continues to expand its global footprint and its timeshare business. In January 2016 Hilton launched its newest midscale brand, Tru by Hilton. Each Tru by Hilton property includes various social spaces in a large first floor lobby.
In February 2016 the company announced a plan to separate a substantial portion of its ownership business, consisting primarily of its owned hotels located in the US along with its timeshare business from Hilton, to form two additional new publicly traded companies.
Mergers and Acquisitions
In 2015 Hilton sold its Waldorf Astoria New York hotel for $1.95 billion. The company used the proceeds from the sale to acquire five other hotel properties.
Hilton
The company is one of the world's largest hoteliers with a lodging empire that includes more than 4,600 hotels and resorts in about 100 countries
Rank: 27
Company size: 1000
Global: Yes

Graduate programme: Yes
Intern programme: Yes