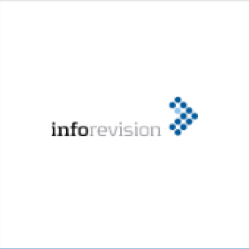 About inforevision
With inforevision you'll feel like "big fish in small bowl"! Not because of your size of business, but because we care.
We have the means to serve any client, as we do 3100 customers in most any kind of businees imaginable. We have grown to app. 120 employees since 1986, and we are presently growing faster than our competition. We think its due to our customer focus and our stong beliefs in quality and value for money.
Our services are based on the following:
That our services add value to our customer

That our services ensure a reliable basis to make decisions and hereby create a confidence for the customer

That our services at least equal what we have agreed and what the customer is expecting.

That our services are provided as appointed.

That our services are performed in an effective and targeted way, with a high level of quality and service.
Whenever it is relevant, we use our very well functioning local network in Copenhagen to create further business opportunities for our clients.
We offer our products in Danish and English. We speak German and Nordic languages as well. Please contact our department for International Business if you have any questions and we will guide you from here.
You can reach Head of info Intl. dept. , Ms. Vibeke Düring Jensen, directly at +45 39 53 50 80
inforevision a/s
Inforevision have grown to app. 120 employees since 1986
Rank: 11
Company size: 0-250
Global: No

Graduate programme: No
Intern programme: Yes