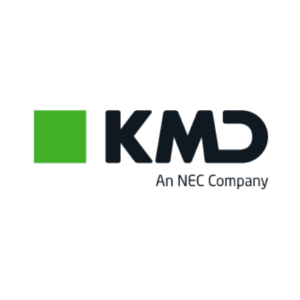 Graduate Programme Facts
Main location
Greater Copenhagen
Functions
IT, Sales, Project Management, Data / Analytics
Time per duration
18 Months
international rotations
No
Language Requirements
English
Our take on the KMD Graduate Programme
KMD is the largest Danish-based IT company that develops and delivers software, solutions and IT services to Denmark's public and financial sector and with a growing footprint in the private sector and in the Nordic region.
The unique domain knowledge, reliability and access to security and operational stability makes KMD one of the most recognized and used suppliers in the Danish IT industry.
KMD's solutions help to streamline processes and create better service for customers every day all year round. Their systems handle, for example, payments of salaries and social benefits. In total, amounting to about 400 billion kroner per year, which corresponds to more than 20% of Denmark's GDP.
The KMD Group has an annual turnover of more than four billion Danish kroner and has around 3,500 employees. KMD's head office is in Ballerup, but they also have offices in Odense, Aarhus and Aalborg. In addition, KMD also has an office in Warsaw in Poland, and partners in India.
KMD is owned by NEC – a global leader in the integration of cutting-edge IT and networking technologies that benefit businesses and people around the world. The NEC employs more than 100,000 people globally.
KMD's size means that they offer a great variety of professional challenges and a unique professional environment. With extensive know-how within complex areas of work and competent, ambitious and not least innovative employees, KMD is facing an international journey with NEC. 
The company is known to coordinate expectations with their employees through goal setting and ongoing dialogue. It contributes to build mutual trust and allows employees to work with both freedom and flexibility. KMD is a changing company where pace, agility and new business opportunities are part of everyday life.
Graduate Programme Benefits
Flexibility in regard to working from home
Application Process
2
PI Cognitive Assessment Test
Or other test
Insights on the KMD Graduate Programme
Graduate Progressions (example of roles after the graduate programme)
Project Management > Project Manager
IT program – SAP Konsulent
IT program – IT konsulent
The Verdict
What's good
"Large company with good internal learning opportunities"
"Possibility to work with internation clients"
What's not so good
"Lost public contracts to competitors"
""
KMD
For more than 50 years, KMD has played a key role in digitizing the Danish welfare state, making Denmark's public sector one of the most digitized in the world.
Rank: 48
Company size: 1001-5000
Global: Yes

Graduate programme: Yes
Intern programme: Yes
Website:
Link