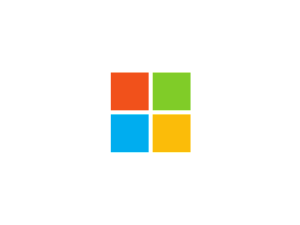 About MICROSOFT CORPORATION
Microsoft's ambitions to put a computer on every desk have evolved to put a computing device just about anywhere and connect it to the cloud rather than anchor it to a desk. Besides the Windows operating system and Office suite of productivity programs, Microsoft makes tablets (Surface), game consoles (Xbox), and smartphones (Lumia). It even introduced its first laptop computer in 2015. Still software — for consumers and businesses — is Microsoft's biggest source of revenue. Much of Microsoft's software is sold through PC makers such as Acer, Lenovo, Dell, Hewlett-Packard, and Toshiba, who pre-install the software on devices. In a major deal Microsoft agreed to buy LinkedIn, the business-oriented social network, for $26 billion in 2016.
Operations
Microsoft operates through six business segments: Devices and Consumer, Device and Consumer Licensing, Computing and Gaming Hardware, Phone Hardware, Device and Consumer Other, Commercial Licensing, and Commercial Other.
Accounting for 44% of the company's revenue, the Commercial Licensing segment's products include Windows Server, Microsoft SQL Server, volume licensing of the Windows operating system, Microsoft Office for business, SharePoint, Skype for Business, and Microsoft Dynamics.
Other products include enterprise applications ( Microsoft Dynamics) and server and storage software. Its Bing search engine is a (distant ) No. 2 to Google. Azure, the company's cloud computing business, competes with Amazon, Google, and IBM.
While it's unlikely to warrant changing Microsoft's name, hardware accounts for an increasing amount of revenue for the company. As the company has release more computing devices, hardware now generates nearly 20% of its revenue. That could increase with Microsoft's new Surface Pro notebook computer.
Geographic Reach
Microsoft operates through subsidiaries in more than 100 countries and international sales account for 54% of revenue. The US generates the rest.
Sales and Marketing
Microsoft sells its products and services online and through OEMs, distributors, and resellers. The company does spend some money promoting its products and services — it reported advertising expenses of around $1.9 billion in 2015 (ended June), a bit of a reduction from $2.3 billion in 2014 and $2.6 billion in 2013.
Financial Performance
The company's revenue increased about 8% in 2015 (ended June), but net income plunged 44% compared with 2014. A 60% increase in hardware sales, which included a full year of phone hardware, helped boost revenue. Commercial revenue rose 5% with help from the commercial cloud and growth from Azure.
The drop of net income from $22 billion in 2014 to $12 billion in 2015 came from higher costs for impairment, integration, and restructuring, and research and development. Impairment, integration, and restructuring expenses were $10 billion, reflecting goodwill and asset impairment charges of $7.5 billion related to its Phone Hardware business. Another $2.5 billion went to integration and restructuring activities related to restructuring.
Strategy
Microsoft isn't just on the desktop anymore. From its Azure cloud computing operations to its Surface tablets (and now Surface Book notebook computer), the company is planting its flag in the cloud and mobile.
The company's cloud products and services for businesses are a growing part of its strategy. Customers are attracted by the stability of Microsoft products (and the company itself) as well as the industries — such as health care — that Microsoft's customers are in.
On the user end, Microsoft bought the Devices & Services business of Finland's Nokia in a $7.2 billion all-cash deal that closed in 2014. Microsoft is committed to the smartphone market, despite failure to gain much traction. In 2015, the company released new and update versions of its line of smartphones. In response to the lack of traction, Microsoft has started to restructure the phone hardware business, eliminating up to 7,800 jobs in 2016.
Microsoft also have moved to make its software available for devices other than those that run Windows. It has developed Office products for the iPad and for Android devices. For Microsoft customers, the company changed some policies, reducing Windows upgrade costs. It offered free upgrades for the Windows 10 OS that it released in July. The Office 365 software is a cloud-based version of its Office productivity suite.
The company continues to depend on PC makers such as Dell and Lenovo to load its software on their computers. That means not only the operating system, but Office as well. Microsoft's notebook computer is a direct competitor with similar products of its customers. The hope within Microsoft is that the computer will inject energy into the slumping PC market, improving the environment for other PC makers as well.
Mergers and Acquisitions
The 2016 acquisition of LinkedIn adds to Microsoft's services and deepens capability to compete with relationship-oriented software providers such as Salesforce.com. LinkedIn will operate as an independent subsidiary of Microsoft with the same management.
In 2014 Microsoft made a highly publicized agreement to acquire Swedish gaming firm Mojang AB, which created the hugely popular cult videogame Minecraft. The deal, valued at $2.5 billion and anticipated to close by the end of the year, will provide Microsoft with a hot mobile and cross-platform property that it hopes will spur growth for its own mobile offerings and attract a younger generation of consumers to its products.
Microsoft
Microsoft's ambition is to put a computer on every desk
Rank: 8
Company size:
Global: Yes

Graduate programme: Yes
Intern programme: Yes