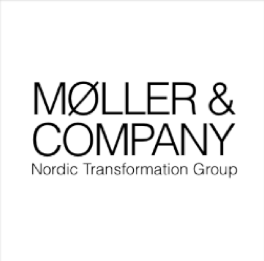 Møller & Company's business is to close the gap between strategy and execution. We work beyond the classical strategy report towards increasing our clients' ability to execute strategies and achieve real change in organisations and individuals creating financial business value and personal growth. Our experienced team consists of a unique blend of management consultants and organisational psychologists working jointly on strategy implementation in business transformation programs. Møller & Company supports our clients in three main areas: Strategy clarification, Business transformation design og Push-Pull change implementation.
Specialties
Strategy clarification, Structure, process and management, Organisation and competences, and Leadership and management team
Our experienced team consists of a unique blend of management consultants and organisational psychologists. Together we ensure implementation of the identified strategy through profound and on-going changes in the client's organisation and the employees' behaviour. For Møller & Company 'the report' is not the result – it is the change and the economic results that come along with the change.
Since its establishment in 2006, Møller & Company has delivered projects for large companies across Europe. We are an experienced and dedicated team structured across two competence areas: Business insight and organisational insight. We have a hands-on approach to consulting work and take pride in making an experienced team available to our clients every time.
Strategy
Direction, focus & common goals
We work closely with leadership to develop, clarify and streamline the company's strategy. We strive to optimize the interplay between the company's own competencies and insights, and our experience and process competencies.

We make business and market strategies concrete. We leverage our broad experience base to challenge and at the same time ensure a realistic strategy.

We believe that strategy communication is key. We help to disseminate the strategy enabling it to create clarity, meaning and motivation across the entire organisation.

We help to establish the processes and competencies that will ensure an effective strategy execution.
Structure & Processes
Clarity, assurance & effectiveness
We approach the development of organisational structure, processes and governance systematically. By taking a point of departure in the company's strategy, goals and tasks, we deliver 360° analysis in an effective and pragmatic way.

We incorporate management and anchoring from the outset with a focus on solutions that work in practice.
Organisation & Competencies
Ambition & development
We assist in defining critical skills and competencies grounded in the company's strategic goals.

We develop competency models that work for leadership, managers and employees.

We help to continually raise the ambition levels for competence development at a pace aligned to the individual organisation.
Leadership
Motivation & ability to execute
We believe that great leadership is the foundation for creating business results.

We work with the development of leaders within critical leadership disciplines,anchored in a business perspective.

We work with leadership development collectively to ensure a cohesive leadership group rather than a group of leaders.
Møller & Company - Nordic Transformation Group
Møller & Company is a Nordic consulting company focused around business transformation
Rank: 59
Company size: 0-250
Global: No

Graduate programme: No
Intern programme: Yes