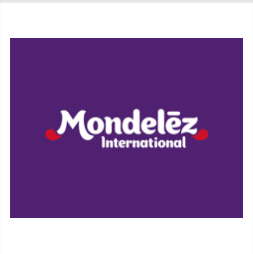 About MONDELEZ INTERNATIONAL
Mondelez International (formerly Kraft Foods Inc.) makes what it takes to survive a global snack attack. The company's pantry of billion-dollar brands includes: Cadbury and Milka chocolates; LU, Nabisco, and Oreo biscuits; Trident gum; Tang powdered beverages; and Jacobs coffees. Mondelez International comprises the global snacking and food brands of the former Kraft Foods, whose North American operations were spun off to form Kraft Foods Group in 2012. Mondelez, with about $35 billion in annual sales, operations in more than 80 countries, and sale in about 165 countries, is the larger of the two businesses.
Operations
Mondelez operates five operating segments organized by geography: Latin America, Asia Pacific, EEMEA, Europe and North America.
Its portfolio of nearly 60 food and snack brands are organized into five product categories: biscuits (which counts cookies, crackers and salted snacks); chocolate; gum & candy; beverages (which counts coffee and powdered drinks) and cheese & grocery.
In 2014, its biscuit brands brought in nearly 35% of sales, while its chocolate brands made up more than 25%. Mondelez's Power Brands accounted for 60% of total net sales.
Geographic Reach
As its name suggests, Mondelez International has a global focus. Indeed, North America accounts for just 20% of sales. Europe is the company's single largest market, contributing 40%, while fast-growing international markets, including Latin America, the Eastern Europe, Middle East and Africa (EEMEA) region, and the Asia-Pacific region, contribute the remainder. The company maintains 170 manufacturing and processing plants in 58 countries (including eight in China in Beijing, Suzhou, Shanghai, Guangzhou, and Jiangmen), and boasts more than 215 distribution centers and depots globally.
Sales and Marketing
Mondelez sells its candy, snacks, and beverages through supermarket chains, wholesalers, supercenters, warehouse clubs, mass merchandisers, convenience stores, drug stores, and other retail food outlets. The company also sells through independent sales offices and agents in some of its international locations. Mondelez' 10 largest customers accounted for nearly 25% of sales in 2014.
The company spent $1.55 billion on advertising expenses in 2014, about 10% less than it spent in 2013, and 14% less than in 2012. Mondelez was able to save on costs by consolidating its media providers, reducing its non-working media costs, and shifting its spending into low-cost digital media outlets. It did increase its advertising spend on its global Power Brands and kept its spending steady on effective media channels.
Financial Performance
Since its divestiture of Kraft Food Group, Mondelez' revenue has been mostly flat in recent years. Revenue in 2014 dipped by 3% to $34.2 billion, with sales dropping in all regions (save for the US) and across all product lines, mostly because of unfavorable foreign exchange rates and a poor volume/mix in the Europe, Asia Pacific and Latin American regions. The company's sales declined the most in the Chocolate and Gum & Candy product lines. Higher net pricing, however, helped to offset some of the sales decline.
The company's profit has also been declining over the past few years (with the exception of 2013). Net income dove by 44% to $2.18 billion in 2014, mostly because of an absence of income from discontinued operations that it enjoyed the year before. In 2013, the company had increased revenue by 1% thanks to higher biscuit and chocolate sales, partially offset by a decrease in sales in the company's gum and candy, and cheese and grocery segments.
Cash from operations also fell by 44% to $3.5 billion in 2014, mostly from a combination of lower earnings, more income tax payments, and because in 2013 the company had enjoyed a non-recurring $2.6 billion cash receipt from the resolution of its Starbucks arbitration.
Strategy
After years of declining sales and profits, Mondelez has been undergoing big changes to right the ship in recent years. In mid-2014, it initiated a $3.5 billion restructuring program designed to cut supply chain and overhead costs and save at least $1.5 billion annually by the time the program ends at the end of 2018. In 2014, the first year of the program, the company spent $381 million toward implementing this ambitious savings program.
To better utilize it's resources, Mondelez has been selectively cutting some operations to be relocate its other operations in more strategic regions. In 2015, the company sold its 50% stake in the Ajinomoto General Foods, which sells coffee products and other beverages in Japan, to its joint venture partner Ajinomoto Co. Inc . In 2014, it invested $24 million to boost the production capacity of its plant in Gebze, Turkey to support its growing confectionery business. In 2013, it shuttered some of its former Kraft plants in the US to make more investments in Brazil, China, India, Mexico, Venezuela, Argentina, the EMEA, and Russia. Amid US and Russia tensions over Ukraine, Mondelez began building a $110-million factory in the Novosibirsk region of Russia with the capacity to produce 50,000 tons of snacks annually. It also began building a $90 million biscuit plant in Bahrain to satisfy increasing demand for its snacks in the Middle East and Africa.
The separation of the global snacking business from the North American grocery operations paved the way for each business to adopt its own strategy. Mondelez is looking to its 15 global power brands (including Chips Ahoy!, Oreo, Milka, Cadbury, Chiclets and Trident) to drive 70% of its growth (up from 60% in 2014). The company holds the number one position globally in biscuits (or as we say in America, cookies), chocolate, candy and powdered beverages. It's number two in gum and coffee.
Company Background
The company's hard-won battle for UK candy maker Cadbury in 2010 gave the snack business the heft to stand alone. The purchase, valued at about $18.5 million, created a "global powerhouse in snacks, confections, and quick meals, with a large portfolio of leading brands around the world." Cadbury's top brands include Dairy Milk bars, Roses chocolates, Trident gum, Halls cough drops, and the ever-popular Creme Eggs. In 2014, Mondelez's chocolate division, which includes Cadbury, generated more than 25% of the company's total sales.
Mondelez Graduate Programme
The company's pantry of billion-dollar brands includes: Cadbury and Milka chocolates; LU, Nabisco, and Oreo biscuits; Trident gum; Tang powdered beverages; and Jacobs coffees
Rank: 15
Company size:
Global: Yes

Graduate programme: Yes
Intern programme: Yes