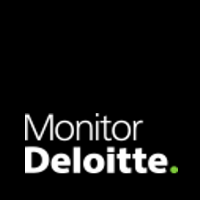 Monitor Deloitte exist to help clients make and execute the winning choices that drive enterprise value and improve their competitive stance. With a distinctive focus on growth, innovation and competitiveness backed by robust and proven methodologies developed by the Monitor Group, it offers an unrivaled platform for their clients to grow with confidence.
With a footprint of more than 2,000 practitioners around the world backed by the power of the greater Deloitte family, the firm works everyday with clients to tackle their most pressing strategic issues. Monitor Deloitte Nordic team is a perfect blend of experienced consultants delivering tailored responses to client issues by combining deep sector insights with innovative approaches leaving their clients smarter and more capable.

Monitor Deloitte is the multinational strategy consulting practice of Deloitte Consulting LLP. Monitor Deloitte specializes in providing strategy consultation services to the senior management of major organizations and governments. It helps its clients address a variety of management areas, including: Corporate & Business Unit Strategy, Digital Strategy, Demand Analytics, Innovation, Organization and Leadership, Economic Development and Security, Marketing, Pricing & Profitability.

Prior to its acquisition by Deloitte in January 2013, Monitor Deloitte was an American strategy consulting practice known as Monitor Group. Monitor Group was founded in 1983 by six entrepreneurs with ties to the Harvard Business School, including Michael Porter. The advisory services now offered by Monitor Deloitte are in line with Monitor Group's legacy expertise, but expanded to a broader set of implementation and capabilities design focused on greater resilience to economic uncertainty.
Today, Monitor Deloitte is a distinct market-facing strategy and business transformation practice. It is led by Bansi Nigja who is a principal of Deloitte Consulting LLP. Prior to the merger with Deloitte, Bansi Nigja was President of Monitor Group and led the firm's global innovation practice.
What makes it the best company to work for?
Monitor Deloitte sets itself apart from other strategy practices on five key dimensions:
We have a Challenger Culture, which is a shared expectation for every employee at every level to constantly challenge clients and each other.

We go Deep in Strategy, meaning that we do more pure strategy work than most of our competitors – leveraging greater Deloitte on more operational and technological projects.

We have a World Class Innovation offering giving you the opportunity to become equipped with innovation capabilities through our extensive IP and networks.

We offer Flexibility to Match Lifestyle as we are not just a step on the way to a great career – we offer the possibility of a lifetime career.

We provide the possibility of a Career without Borders which is highly individualized as you are able to design your own adventures abroad. However, this is a voluntary option.
What are you working on getting better at?
Monitor Deloitte is a fairly young player in the Danish strategy space, why we are constantly working on building and improving our business.

Some of the main activities that we are currently working on improving include…
Training: improving the learning journey of our employees by continuously refining and integrating local trainings, onboarding activities and international networking.

Value proposition: expanding the Monitor Deloitte brand in the market and establishing a clear communication of our unique value proposition to potential clients and new employees.

Diversity: striving to improve our diversity of thought to ensure greater variation in perspectives and approaches – e.g. through a team with diverse backgrounds.

Network: building our international Monitor Deloitte network in order to offer our talents the best possibilities for international exchange, expropriation, projects, etc.
Fun Fact
Monitor Deloitte is the result of a merger between Monitor Group and Deloitte – the former which was founded by the world renowned economist Michael Porter, among others.

In opposition to many of our competitors who are based on a paradigm of optimization and cost-cutting, Monitor Deloitte emphasize growth through differentiation. Hence, we preach to our clients that strategy starts with the customer and is about making choices and confronting an uncertain future. The process can be simple, but the choices have to be tough and discomfort is – and must be – part of the process.

"Strategy is about making choices, trade-offs; it's about deliberately choosing to be different."
– Michael E. Porter

Today, we continue to put great value to the Monitor Deloitte legacy and seek to live by it in our daily work, be it client work, development of our business, or personal/professional development.
Monitor Deloitte
Monitor Deloitte's heritage is in the domain of competitive strategy. We bring a powerful set of perspectives, experiences, tools and approaches to help our clients frame, solve and execute against their most pressing, complex and value-impacting strategic choices.
Rank: 15
Company size: 1001-5000
Global: Yes

Graduate programme: Yes
Intern programme: Yes