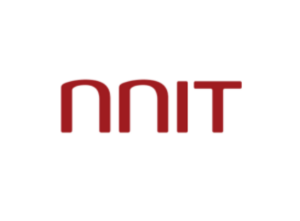 ​​​​​​​​​​​​​​​​​​​​​​​​​​​​​​​​​​​​​​​​​​​​​​​​​​​NNIT is a passionate firm building winning teams with its customers. With deep roots in the pharmaceutical industry, it supplies services that meet the highest requirements for quality, security and standardization.

NNIT is one of Denmark's leading consultancies in IT development, implementation and operations. For over a decade, it has applied the latest advances in technology to make software development, business processes and communication significantly more effective.
NNIT's service  include advising, building, implementing, managing and supporting IT solutions and operating IT systems for customers. In 2021, the company's revenue was DKK 2.9 billion.

Today, NNIT has more than 3,000 employees – of which approximately half work outside the borders of Denmark – in China, the Czech Republic, the Philippines, Switzerland, Germany, Ireland, Norway, Singapore, the United Kingdom and in the US.
Culture
Joining NNIT gives you an opportunity of being part of a culture with room for independent thinking and individual responsibility, grounded in the Nordic principles of openness, trust, honesty and respect.

NNIT offers some of the most challenging consulting and digitization projects in the IT industry. You'll help deliver high-impact, high-quality solutions and services that transform the way their customers do business. Along the way, you'll be deeply encouraged to influence your own career development.
About the Graduate programme by NNIT


As an employee of NNIT, you are giving yourself a solid career foundation that ensures you can grow and make a mark on some of the most ambitious projects in the IT industry. The NNIT Graduate Programs are an opportunity to challenge yourself within a technological area in high demand. They are dedicated programs of hands-on training and specialized mentoring by some of the most experienced and dedicated people in the industry."
NNIT
NNIT​ is one of Denmark's leading consultancies in IT development, implementation and operations.
Rank:
Company size: 1001-5000
Global: Yes

Graduate programme: Yes
Intern programme: Yes
Østmarken 3A
2860Søborg
Phone:7024 4242
Website:
Link