Graduate Programme Facts
main location
Greater Copenhagen
Functions
Finance, IT, Marketing, Operations, Project Management, Product Management, Engineering, Software Development, Data & Analytics, R&D

Time per rotation
6-8 Months
International rotations
Globally
Requirements
Master's degree, maximum of 1 year relevant work experience after graduation, above average academic achievements, able to relocate internationally
Language Requirements
English language required
---
Applications Open
November 1, 2022
Applications Close
December 21, 2022
Programme Start
September 1, 2023
Our take on the Novo Nordisk Graduate Programme
About the programme by Novo Nordisk

The Novo Nordisk Graduate Programme is a 2-year, global career journey with a minimum of three rotations including at least one international rotation. The Graduate Programme is Novo Nordisk's flagship 'Talent Programme'. Many top leaders started their journey in Novo Nordisk as part of the Graduate Programme, including our CEO Lars Fruergaard Jørgensen.
During the programme, you will gain a deep understanding of our company, our business, and our company values. You will drive and collaborate on global and national projects, as well as build a strong international network of professional and dedicated colleagues.
After successfully completing the programme, you will have the necessary professional and personal skills to embark on your global career with a position at Novo Nordisk.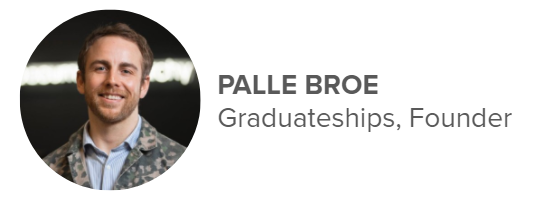 About Novo Nordisk
Novo Nordisk is one of the top 10 leading pharmaceutical companies in the world measured by market value, founded 1923 and headquartered just outside Copenhagen, Denmark. Novo Nordisk purpose is to drive change to defeat diabetes and other serious chronic diseases by pioneering scientific breakthroughs, expanding access to medicines and to prevent and ultimately cure the diseases they treat. Novo Nordisk employs more than 50.000 people in 80 offices around the world, and market their products in 170 countries.
An Outstanding Graduate Programme
Novo Nordisk has one of the most high-esteemed and well-developed graduate programmes available. A recent study among university students conducted by Graduateship, shows that Novo Nordisk graduate programme was one of the most desired talent programmes to get accepted to. The popularity and global reach of Novo Nordisk's graduate programme is emphasized by the fact that more than 4.000 candidates apply yearly and 90% of the accepted applicants are coming from countries outside of Denmark. 
The graduate programme includes 15 tracks within a wide variety of areas from marketing, finance and data science to trial management and pharmaceutical development and in 2023 more than 70 graduate positions will be available. Novo Nordisk Graduate Programme is a 2-year, global career journey with a minimum of three rotations including at least one international rotation where the graduates are located in different affiliates across the world. This gives the graduates international experience as well as opportunities to work in different divisions with a variety of tasks.
Read more about Novo Nordisk Graduate Programme here.
Fast-track your career
Today, the graduate programme is highly valued among employees and leaders in Novo Nordisk, especially since more than 50% of graduates that have completed the programme holds managerial positions today. Hence, the programme is known to produce the next generation of leaders that are driving change and helping millions of patients living with diabetes, obesity and other serious chronic diseases. Novo Nordisk has created a tradition where graduates receive a great deal of responsibility enabling their development to progress consistently. The learning curve you can expect is simply above and beyond most other opportunities on the market for graduates. 
Did you know the current CEO of Novo Nordisk, Lars Fruergaard Jørgensen, started his career in the graduate programme more than 30 years ago?
In a Professional and Social Environment
If you become a Novo Nordisk graduate, you can expect a very professional approach where Novo Nordisk supports your relocation and accommodation in Copenhagen as well as during your international rotations. Your Graduate Programme Manager will become your mentor and offer 1:1 sessions, where you can ask for advice and guidance throughout the two years.
All graduates that are relocating to Denmark will get accommodated in apartment complexes in Copenhagen. The social community between the graduates is something special. It gives you a network of friends, that go through the same experience and learning development as you do – making the relations between your co-graduates extremely valuable. 
It is no wonder, why many master students across the globe decide to apply for this graduate programme. 
At Graduateships we highly recommend students that are looking to accelerate their careers in an international environment in one of the leading pharma companies in the world to apply for a graduate position at Novo Nordisk.
Read more about Novo Nordisk Graduate Programme and apply here.
Graduate Programme Benefits
Visa sponsorship for international students

Relocation support in Copenhagen

Relocation support on international rotations

Housing and transport covered on international rotations

Paid trips to home country

Paid mobile phone

Flexibility to work from home
Application Process
1
Motivational Letter, CV and Grade Transcript Review
3
Online personality and cognitive assessments
4
Virtual Graduate Recruitment Centre
Insights on the Novo Nordisk Graduate Programme
Meet their people (click the link to read the article)
Rossella Laurenza: Since a young age I have been drawn to an international career after graduation – Novo Nordisk has given me just that
Graduate Progressions (click on the images below to see their profiles)

---

---

The Verdict
What's good
"Well-developed graduate programme"
"Prestigious company"
"World-known graduate programme"
"Very social environment"
What's not so good
"Not all tracks secure permanent employment after completion"
Novo Nordisk Graduate Programme
World leader in diabetes care with a growing business in other serious chronic diseases such as obesity. More than 50,000 employees in 80 countries with products in 170 countries.
Rank: 1
Company size: +10000
Global: Yes

Graduate programme: Yes
Intern programme: Yes
Website:
Link