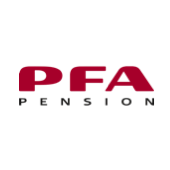 PFA Pension was founded in 1917 as an independent company by a number of labour organisations, with the sole purpose of ensuring a financially secure future for the employees and their families. Today, PFA has approximately 1.2 million individual customers from a wide range of the largest companies and organisations in Denmark. And the ambition hasn't changed – our focus has always been, and still is, to create maximum value for our customers.
PFA and CustomerCapital
PFA has a unique profit-sharing model that ensures maximum value for our customers through CustomerCapital. CustomerCapital gives the customers an extra high return on 5 % of their pension payments. The profit-sharing model is also a way to distribute risk as CustomerCapital forms part of the financial buffer that must cover any losses that PFA sustains.
Being an independent pension company allows PFA to give top priority to the customers' interests. Both when it comes to distributing profit through CustomerCapital and to advising the customers on their pension options. Finally, being independent also allows PFA the investment freedom needed to generate the strongest investment returns – and PFA is the only pension company in Denmark to have generated positive investment returns every year since 2001.
PFA is independent
With more than DKK 500 billion under management and approximately 1.1 million individual customers, PFA is the largest commercial pension company in Denmark. This means that we can keep costs low, that we have access to attractive investment options as well as that we are able to attract some of the best investment experts in the country.
PFA and economies of scale
PFA's business model has been developed with the purpose of performing well in a competitive market characterised by a strong focus on the ability to deliver the best investment returns, products and services. Through a constant market-oriented approach and an ongoing dialogue with our customers, PFA continues to offer the best pension and service solutions on the market.
PFA Pension Graduate Programme
PFA is the largest Danish pension fund
Rank: 46
Company size:
Global: No

Graduate programme: Yes
Intern programme: Yes