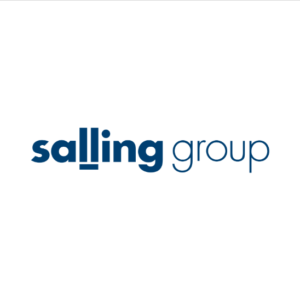 Over 53,000 employees. Denmark's most diverse workplace. Stores, web shops, coffee bars, restaurants and a variety of unique and well-known brands. Spread over four countries. All to make everyday life better. We are Salling Group.
Salling Group's history stretches back more than 100 years to 1906. Over the years, the company has developed dramatically, and what began as a small draper's shop in Aarhus is today an international retailing group.
From draper's shop to retail group
In 1906, Ferdinand Salling opened his draper's shop in Aarhus. The shop gradually grew, and in 1948 the first part of Salling department store was opened. After his death in 1953, his son Herman Salling took over the business and began to modernise and expand Salling's department stores. 
Just like his father, Herman Salling was an entrepreneur, and in 1960 he established Jysk Supermarked in order to realise his plans to build chains of supermarkets and department stores. The same year, he opened Denmark's first supermarket, føtex. Herman Salling's business grew over the following years and became the basis of Salling Group.
A man of enterprise
For Herman, the customer's needs always took centre stage – for him it was about making everyday life better for customers. At the same time, he was constantly focused on reducing costs, so he could ensure customers the best possible prices.
Throughout his lifelong career in retail, he gathered inspiration from abroad, such as the United States, the United Kingdom and Germany, and he was always proud to lead the industry in Denmark.
The three retail chains, føtex (1960), Bilka (1970) and Netto (1981), were all created to support new shopping habits and changes in lifestyle. 
In 1999, Herman Salling went on pension, and shortly after his 60-year anniversary at the company in 2006, he passed away. His spirit remains a central part of our culture. 
100% owned by the Salling Foundations since 2017
In order to finance its ambitions for growth, in 1964 Herman Salling invited A.P. Møller-Maersk to become a partner in Jysk Supermarked with an ownership interest of 50%. In the same year, the company changed name to Dansk Supermarked.
In 1982, A.P. Moller-Maersk increased its stake to 68% by buying the shares in the company that Herman's sister Inger had inherited from their father. The Salling Foundations thereby owned 32% of the company.
In January 2014, the group generated capital for the Salling Foundations to acquire 49% of A.P. Møller-Maersk's shares. The foundations thereby gained majority ownership with 81% of the shares. In November 2017, the process was completed when the Salling Foundations acquired the remaining 19% of the shares. The group was now 100% owned by the Salling Foundations.
New chains for new times
Since the first department store opened in 1948, our business has undergone major developments. Our chains have always developed in response to customer needs – such as when føtex offered consumers a whole new way to shop in 1960 with the country's first supermarket on Guldsmedgade in Aarhus. 
Bilka – the country's first hypermarket
The opening of the first Bilka hypermarket attracted huge attention in 1970. Many pilgrimages took place to the country's first hypermarket in Tilst, on the outskirts of Aarhus, to experience what this new kind of store could offer.
Netto – the first Danish discount store
In 1981, Netto opened its first shop to offer customers the most important everyday items at low prices. Today, the chain is successful in four countries.
In 1996, the first døgnNetto opened – small discount shops mainly located in Copenhagen. After the success of 24-hour opening at Netto shops in larger towns, døgnNetto was phased out in 2016.
In 2009, føtex opened the first convenience shop under the name of føtex food. With shops mainly in Copenhagen and Aarhus, the focus of the chain is on good food, and it offers a large selection of specialties.
Salling Group
Salling Group A/S is Denmark's largest retailer, with a market share of 34.9%. It owns several chains of stores - Netto, Føtex, Bilka and Salling.
Rank: 32
Company size: 1000
Global: Yes

Graduate programme: Yes
Intern programme: Yes