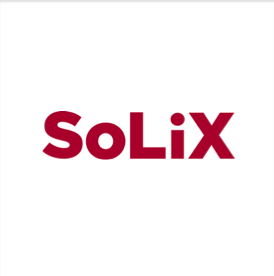 We invest in and develop companies
Solix is an investment company.
Solix will typically invest in companies with turnover of DKK/SEK 500.000.000 or above.
We primarily invest in companies based in Northern Europe, and preferably companies that are domiciled in Denmark or Sweden.
We take a long term approach to investing and look for companies we can develop in close partnership with the management team over many years and preferably by implementing initiatives, which will strengthen the company's market position, product offering, manufacturing and distribution footprint and organisation.
Guiding principles
Trust, integrity and commitment to our business partners comes before everything else.
We invest in companies operating in markets and sectors, which we have the ability to fully understand.
We always take a long-term perspective, which goes beyond our own ownership horizon. We are prepared to sacrifice short-term profitability for long-term value creation.
As direct shareholders in all our companies, we have the passion and the ambition to develop them into sustainable, market-leading organizations and to create long-term value for all our stakeholders.
Investment approach
We deliberately adopt a very focused approach, which allows us to dedicate maximum resources to developing a handful of highly attractive companies.
We embrace complex situations, where we can apply our broad range of skills and experience and demonstrate our ability to make informed commercial decisions in difficult circumstances.
Our lean decision-making process and our agile corporate structure allow us to make decisions and commitments in real time, as our key decision makers are constantly and directly involved in the ongoing evaluation of all potential investment opportunities.
Corporate governance
We always take control positions in each company we invest in. We operate with a clear division of responsibilities between Solix as owner, the Board of Directors and the management of the companies.
It is the responsibility of the Board of Directors to appoint the CEO, set the strategic direction and goals and monitor performance.
The CEO is responsible for identifying, recruiting and organizing the wider management team.
We appoint a Board of Directors that is uniquely positioned and tailor-made to each individual group holding and we ensure that there is a mutual respect and personal fit between the management team and the Board of Directors. In many cases, the Board of Directors is appointed from our own network of senior industry executives, complemented, if appropriate, by external competencies, in order to achieve the optimal composition of the Board of Directors in each case.
Management
We fully acknowledge that management is an integral part of a company's success and that a strong management team is essential to achieving a company's full potential.
We empower management so they take full responsibility for proposing and executing the agreed strategy and for the operation of the business as a whole.
We challenge management to set high ambitions and support them in achieving our common goals, and recognize their contribution with substantial financial rewards.
Solix
Solix is an investment company. We primarily invest in companies based in Northern Europe, and preferably companies that are domiciled in Denmark or Sweden.
Rank: 26
Company size: 0-250
Global: No

Graduate programme: No
Intern programme: No