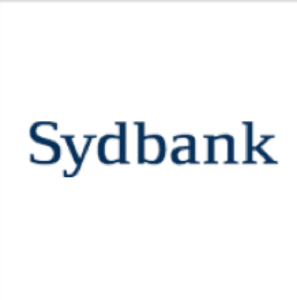 History
Although its roots date back more than a century Sydbank was first established in 1970 through a merger of four local banks in Southern Jutland. In the 1980s the Bank began expanding its domestic branch network outside Southern Jutland.
Between 1980 and 1989 Sydbank established a branch in Copenhagen (1981); merged with Århus Bank (1983) and Fynske Bank (1984); and partially acquired two Copenhagen-based banks, 6. juli Banken (1987), and Fællesbanken (1988). Outside Denmark, Sydbank established branches in Germany in 1984, 1985 and 2007.
In 1990 Sydbank merged with Sparekassen Sønderjylland, the largest savings bank in Southern Jutland, which gave the merged entity the leading market position in that area.
In 1994 Sydbank acquired the sound, basic banking activities of Varde Bank (which was then in financial difficulties) and, it acquired the basic banking activities of Aktivbanken from its insurance company parent, Topdanmark. Purchasing the core businesses of Varde Bank and Aktivbanken doubled Sydbank's business volume as well as the number of staff.
In 2000 Sydbank obtained its first rating from Moody's.
In the years following the turn of the millennium Sydbank grew and is now nationwide. In 2002 Sydbank acquired Egnsbank Fyn and in the ensuing years it set up a number of branches in central Jutland and North Zealand. In 2002 Sydbank established a subsidiary bank, Sydbank (Schweiz) AG, however in 2011 the activities were transferred to Sydbank in Germany – now home to the Bank's foreign private banking operations. In 2008 Sydbank acquired bankTrelleborg.
In 2012 Sydbank acquired branches and clients from Tønder Bank, and in December 2013 Sydbank acquired DiBa Bank.
Objective, responsibility and follow up
Objective
Sydbank strives to conduct its business on the basis of clients' requirements in a profitable and sustainable manner. Clients want a decent, responsible and reliable bank. A bank with sound values but also a solid and profitable bank. Sydbank is such a bank.
Sydbank is a modern bank that evolves in line with today's demands. However Sydbank also focuses on strong fundamental values – values that are reflected in the way we conduct business – with the broader community, our clients, our staff and other stakeholders. We strive in all contexts to create value through excellence and our ability to create relationships.
Responsibility
Sydbank is an enterprise operating as a responsible player in society while respecting its business goals.
The Bank is conscious of the significant socio-economic responsibility that its role as finance provider, securities trader and payment intermediary involves and this is reflected in the Bank's policies and efforts to solve tasks as rationally as possible.
Sydbank's activities include reporting certain information to the public authorities concerning clients' financial circumstances. In connection with pension savings, the Bank calculates the direct and indirect taxes payable, withdraws these amounts from customer accounts and transfers them to the authorities.
Moreover the Bank has developed a set-up to prevent the Bank from being used in connection with money laundering activities or other criminal acts.
Follow-up
Ongoing follow-up of results is carried out in a number of the areas mentioned below but the Bank does not carry out a specific all-inclusive follow-up of the effects of all initiatives implemented.
Profile
One of Denmark's largest banks

Publicly listed, full-service bank

84 branches including 3 in Germany

2,100 employees

475,000 clients

130,000 shareholders

6-11% market share – depending on customer segment
Participation & Memberships
SWIFT

TARGET

EBA/STEP1 and STEP2 XCT and SCT

Joined the Credeuro/ICP Convention

CLS

The national clearing system DKK/EUR

The OMX group (Copenhagen, Stockholm, Helsinki), Oslo Stock Exchange

ISDA

ISMA
Products & Services
Accounts in DKK or other currencies – no charges, interest-bearing

Cash Letter Service

Entry point for payments on Denmark via STEP2 or any other channel

Low Value/Mass Payments

send and receive MT102 FIN

send and receive MT103/REC/EURO

Send and receive Priority Payments

International Cash Management

send and receive MT101 + MT940

Trade Finance

Custody Services
Sydbank
One of Denmark's largest banks with more than 2,000 employees, 84 branches and 475,000 clients
Rank: 28
Company size: 1000
Global: No

Graduate programme: Yes
Intern programme: Yes