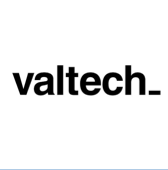 Since 1993, Valtech has consistently focused on business transformation by continually revolutionizing how its clients connect with their consumers. The firm transcends the digital divide by optimizing business-critical platforms, inventing new hardware and orchestrating omni-channel customer journeys. Valtech are engineers, programmers, UX designers, marketers and innovators spanning five continents with over thirty offices throughout 13 different countries (Argentina, Australia, Canada, Denmark, France, Germany, India, Netherlands, Singapore, Sweden, Switzerland, United Kingdom and USA).

While its expertise is in technology, marketing and experience design, they also address transformational business challenges for its clients. With a strong belief that differentiation comes from orchestrating seamless experiences around the customer, Valtech closes this gap by redesigning the customer journey and implementing the fully right connected solution.
Drawing from its expertise and vision, their teams create memorable digital experiences for its clients; fully connected with relevant content that engages customers and sustains conversations with brands. In simple words, the company builds the platforms that allow its customers to do marketing and commerce at the digital age.

As the market consolidates, Valtech's strong international presence and reputable client portfolio, along with its long-term market vision make the company one of the most unique worldwide players.
Culture
Valtech is a global digital company made up of innovators who develop and create us a way of life. The richness of perspectives at Valtech is derived from its incredible diversity coming from all over the world, which means you'll always find someone to connect with and learn from. The firm's international culture positions  its team to work on global projects with a lasting positive impact
What makes it the best company to work for?
Besides making great and exciting solutions for some of the largest Danish and international companies, we have a very special culture here in Valtech. We are over 20 different nationalities and it brings a special openness and diversity within the team. We also meet up every friday for an 'end-of-the-week' drink and play board games. We have VinoValtech, our wine club and then we have a conference trip where we have previously gone to our offices in Paris and London.
What are you working on getting better at?
The key thing we are always working on is ensuring we up to date with the most recent technologies to ensure we are able to create the best solutions for our clients.
Fun Fact
After finishing your lunch, you can walk 5 steps to the right and go for a swim in the canals

In the summer periods you are likely to see one of the 32 tourist boats sail by our office

You can play the arcade machine or play pingpong during lunch

We got a VR headset you can use whilst at work if you need a creative push

The 'gunboat houses' where we are staying actually contained gunboats in the 19th century – now you can sail in kayaks from here.

The variety is great in the area and within a radius of approx. 500 m you can reach Pusher Street, NOMA and the Opera
Valtech
Valtech is a global digital agency focused on business transformation.
Rank: 47
Company size:
Global: Yes

Graduate programme: Yes
Intern programme: Yes