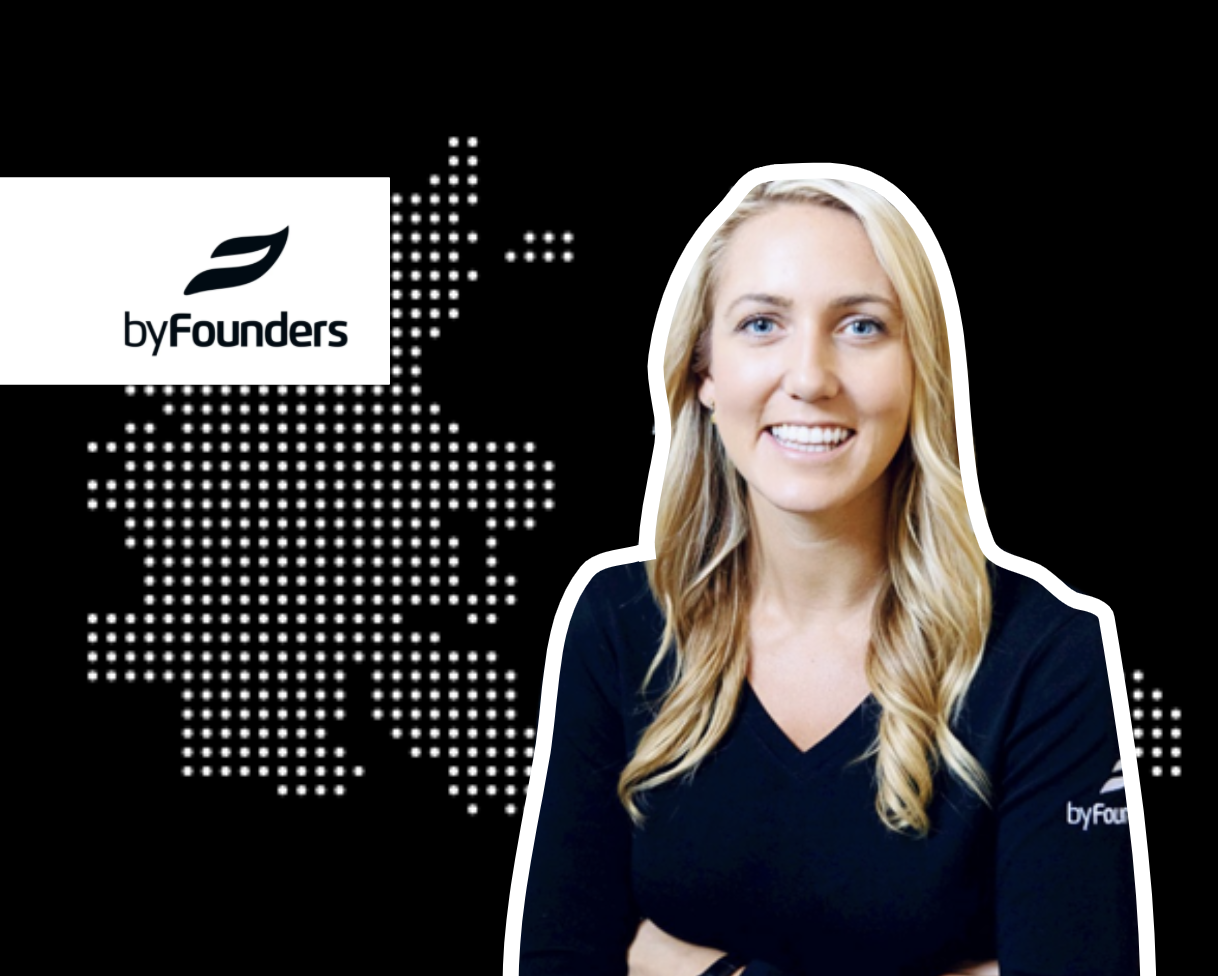 Introduction to Sara Rywe
"Started from the bottom now we here" by Drake, would have been a fitting song to describe Sara's career. She has defied the odds and was the first one her family to graduate university. She has since worked for both McKinsey, Danske Bank and founded her own startup helping kids with low self esteem.  Despite having succeeded a lot, she has probably failed even more and launched her own CV of failures (which you can find below).
Today she is working as an investor for the ambitious Danish venture capital fund byFounders where she is trying to find the next unicorns. Get her insights into venture and what it is actually like to work in the industry.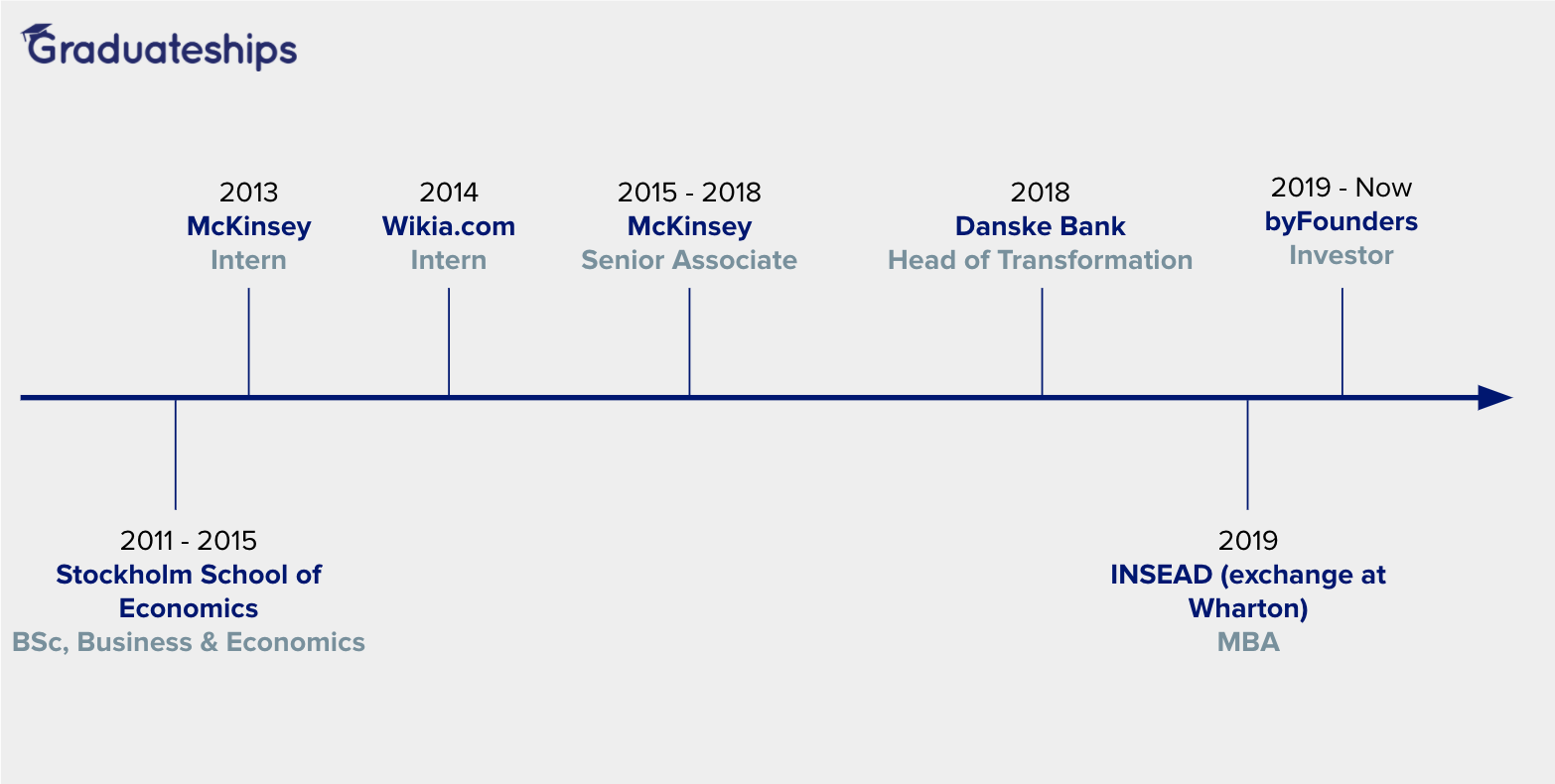 Grew up in the middle of nowhere in Sweden 
When you look at Sara's impressive CV it could easily look like a privileged background, but it is in fact the opposite. 
– I grew up in a very simple manner in the countryside four hours north of Stockholm.  My mom was a single mom, working as a waitress, and I grew up spending most of my time playing sports or camping out in the beautiful nature.
– I started working at a young age and my first "real" job was at McDonalds at the age of 14. Whilst studying, I also worked part-time with jobs such as home help for elderly and in a plastic production factory.
Launching UF Alumni – Sweden's largest network for young entrepreneurs
Sara fell in love with the startup world at an early age as she started and ran her own business for kids with low self esteem.
– When I was 17 I started my first startup: Dance UF – a dancing school for kids in the ages of 8-13 with low self esteem. We ended up having 80 kids attending dance classes on a weekly basis and three employed dance teachers. It was also at this point that I started to fall in love with having my own business.
First one with a university degree in my family
– In 2011 I won the award "Årets Affärskreatör" (Business Creator of the Year) and as a price, I got the opportunity to study at Stockholm School of Economics. I couldn't say no to that opportunity and therefore, I went directly from Singapore to Stockholm to become a student and the first one in my family to get a University degree. 
To join McKinsey or not
– Whilst at university, I got the opportunity to take a few months off school to do an internship at McKinsey & Company (as the only woman in Sweden that year) and was later given an offer to work there full time after I finished University.
For many of her peers, taking the decision to join McKinsey would have been a no brainer, but for Sara it was difficult decision
– I was so convinced that I would pursue my entrepreneurial dreams and management consulting was just the complete opposite to that. I decided to take a break from university and booked a one way ticket to NYC to figure out what I wanted in life. I ended up working at Fandom, a site created by Jimmy Wales, the founder of Wikipedia. It became clear while in NYC that the learning I could get from McKinsey in those early years would be very valuable and so I convinced myself to take the offer.
McKinsey, a short stint at Danske Bank & INSEAD
– At McKinsey I worked across the Nordics and London where I specialised in organisational topics such as performance management, mainly focused on financial services. It was a great learning experience and I'm very grateful for the three years I spent working there. The people that McKinsey is able to attract are truly amazing and I am still today so inspired by them – both personally and professionally. 
– After a few years at McKinsey I was contacted by Danske Bank to head up their global strategy implementation function. They had laid out a new strategy for the whole bank and needed someone to lead the transformation. 
– Three months into my time at the bank, we all found out about the big money laundering scandal. It was a super chaotic time and when I found out that I was accepted to my dream MBA at INSEAD, I decided to pursue that instead. At INSEAD,  I spent 6 months in France, 2 months in Singapore and 2 months at Wharton Business School in the US.
byFounders
Having spent time at INSEAD Sara was then ready to get back into the startup ecosystem.
– I was particularly interested in Venture Capital since it allowed me to both invest in and support a range of incredible founders. I was researching the market and saw that a new fund, byFounders, had just launched in Denmark. I got super excited about their mission and that it was a founders friendly fund. The founders were also very experienced and with the inclusion of the founders collective they were able to draw on knowledge of some of the best entrepreneurs from the Nordic region.
– Today we are three people in the investment team (but will actually hire an analyst this fall!) and I'm the person responsible for our investments in Sweden, Norway and partially Denmark.
I have failed a lot in my career and will continue to do so
It might seem like Sara was able to obtain anything she wanted in her professional life, but that has far from been the case
– When you look at my Linkedin or my CV you will only see the successes, but that's such a small part of life since all the failures are hidden. Many years ago I therefore decided to create an online CV about all my failures to show that we all face obstacles and that we all fail. You can access http://www.sararywe.se/  to see all the times I have failed at something.
– I also have one quote that I think about often, which I received from the founder of Wikipedia: "Be proud of your failures". 
---
Why did you decide to join Venture Capital?
– It was like a 50/50 decision whether or not to start something myself or to join a VC firm. I ended up leaning towards VC as it's an extraordinary opportunity to get insights into so many startups out there. A unique opportunity to learn from the amazing founders and their companies.
– I might go over to the other side one day, but right now I'm super happy to be where I'm at right now. You get to listen to all of these entrepreneurs and hear their dreams and ambitions which is something that I'm very grateful for. Even more so when you get the chance to support them financially.
How did you get the job?
– Getting into VC might be difficult. The job openings are few and the applications are often very unstructured. Unlike e.g. McKinsey which has a very structured approach to hiring. There are so few VCs in Denmark and very few people employed by VC's in general.
– I knew that I wanted to work in the Nordics and that I wanted to work in early stage, preferably Seed or series A. I mapped out all the VCs in this area and started to research them.
– I looked at their values and if I aligned with them. I also looked at what startups had received investments from them to understand what kind of companies they were investing in.
– I ended up doing a kind of summer internship with byFounders so we could test out how we worked together before moving it to a long-term position. It was a great way for me to get your foot in the door, prove my worth, and get to know the team.
– Some of the value I provided was a strong network from my startup days and a structured problem solving approach from my time at McKinsey.  But if you are an expert in certain technologies or startups in general – that could also be a way into VC. You just need to leverage the unique advantages that you have.
What does a normal day at a VC look like?
There is literally not a standard day in VC. However I do think you can break it down like the below:
1: Dealflow (70%). Finding new startups and analysing potential investment opportunities. Dig deeper in and evaluate the startups. A lot of talks with founders. Reference calls with employees, investors, customers to get data points. In general, we focus a lot on the founders and the team in general in the early stages. We also do a lot of legal and tech due diligence before we decide to invest.
2: Supporting Portfolio companies (20%). I support all of our portfolio companies, but spend extra time with the five ones that I'm a board observer for. I help with strategic decisions, hiring, fundraising etc. 
3: Fund itself, internal work (10%). Finally then I help on the fund itself by helping on our own internal fundraising so we can keep on investing in companies. 
Would you say that it's more difficult for women to get a job in VC?
– We clearly need more women in VC – I believe that everyone (but mainly founders) will benefit if we can see more diverse investors with decision power.
– I think it's very difficult to say if it's more difficult for women to break into VC. In general, most VC funds are aware of the diversity issues, especially in these times we are in right now, so VC's are looking for talented women to recruit. The main issue the way I see it are the lack of women in the "steps before VC". In general there are less women in the industries that would lead up to a VC position. You don't see a lot of women in tech startups and analytical roles such as management consulting and investment banking, which means that there are less female candidates, so I think the issue is really making sure we have more woman in those areas. Once we get that I truly hope that we will see the number of women in VCs increase as well.
– It's so important that we get more women into VC. We need women to invest and create new companies as we otherwise will see opportunities skewed to the benefit of the men. That is happening today due to unconscious bias.