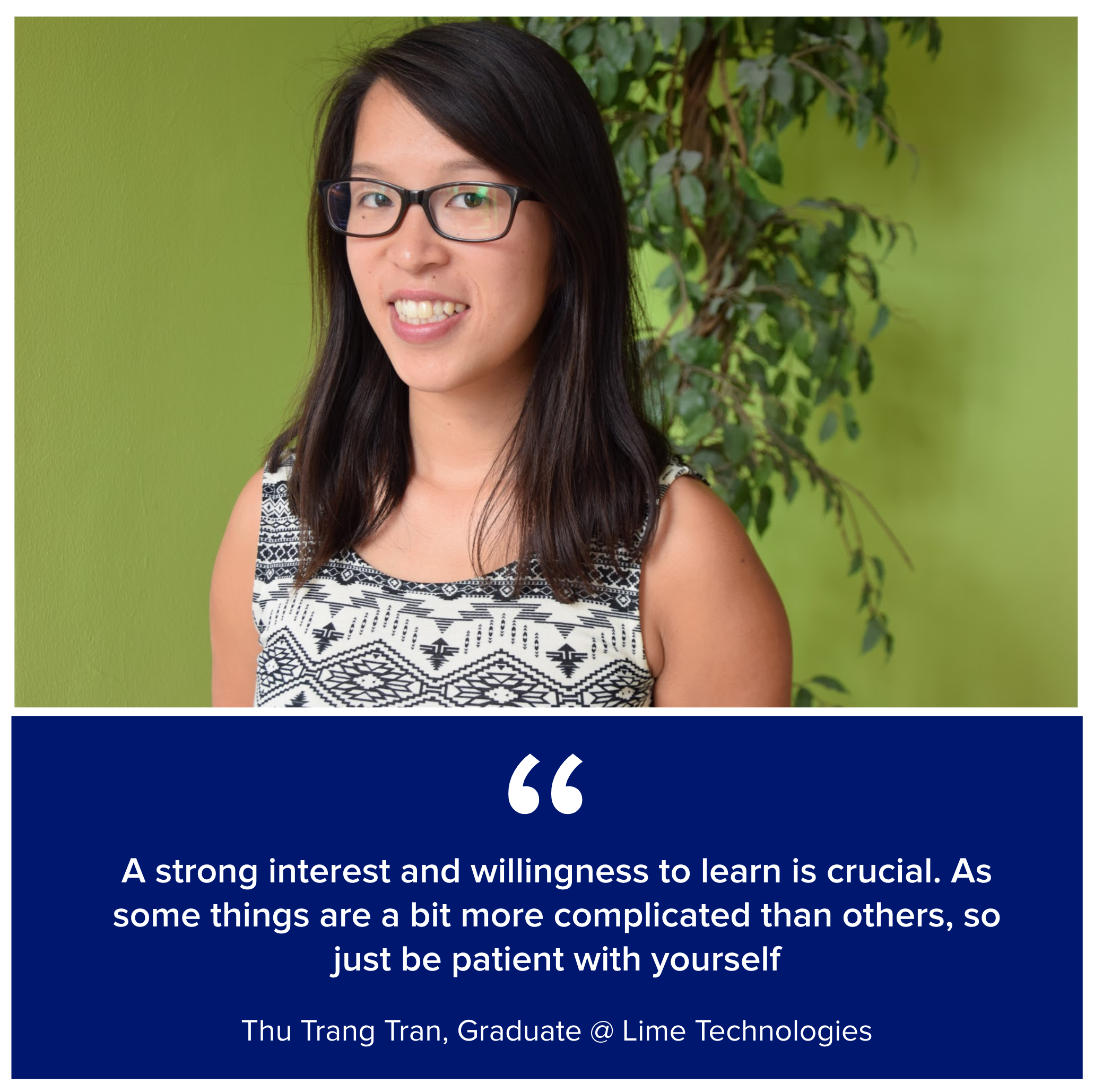 We sat down with Thu to hear more about her experience as a Lime Technologies graduate. Since 1990 Lime Technologies has helped companies reach better results with the help of easy-to-use Customer Relationship Management (CRM) solutions that they develop, consult and support themselves. Today they are over 250 employees and one of the largest CRM suppliers in the Nordics with offices in Denmark, Sweden, Norway and Finland. 
Why did you choose to apply for the Graduate Program?
"When I started to look for full-time positions, I was not necessarily looking for graduate programs. But I knew that I wanted to work within the tech field and be in close contact with customers and users. When I went to the job fair 'Karrieredagene' I was attracted to Lime Technologies by the fresh look and feel of the company. When I found out more about the company and their Nordic Trainee Program, I was thinking: This is perfect for me! Starting with a thorough onboarding with the graduate program with other Nordic colleagues sounds like a fun way to kickstart a career. For me the world of CRM at Lime sounded like the perfect mixture of technical tasks and direct customer contact"
What has been the top 3 things about the program so far?
Gaining new friends and colleagues overall in the entire company. In other departments and countries as well. There is a great culture of feedback and helping each other. Although I am not sitting with all my colleagues next to me all the time, I know that they are only a call, chat or mail away. It's nice to have such a big and knowledgeable network at hand. We are also good at celebrating together as well, both smaller and bigger achievements.

The learnings and getting hands on projects quite fast. I have learned so much in my first year and luckily there is also so much more to learn. I am happy to have encountered so many different parts and aspects of the business and system so far. I also like that It was possible for me to use the gained knowledge early on and take responsibility with my own projects.
Meeting and helping so many different customers. I think it is awesome to meet so many different customers and see what they are using our system for.

When finishing a project, the feeling of making an impact in that company, is always rewarding.
What has been the biggest challenge during the program?
"To accept that one cannot learn everything at once in the beginning. And in connection to this, managing your own time on what to learn and when. Of course, you get a lot guidance and help from your manager, mentor and colleagues, but it is still you who is deciding and prioritizing in the end."
What's the most important thing to succeed in the graduate program?
"A strong interest and willingness to learn is crucial. As some things are a bit more complicated than others, so just be patient with yourself. Also keep an open mind: there are different ways to learn and improve, listening is one of them."
Any advice for new applications?
"Just be yourself. You are a graduate, so stay curious. There are a few steps to get through to a signed contract, but if you prepare yourself and keep your drive it will be a fun way to get to know us at Lime in the process."
If you are looking for more information the company, you can visit our information page on the company here.