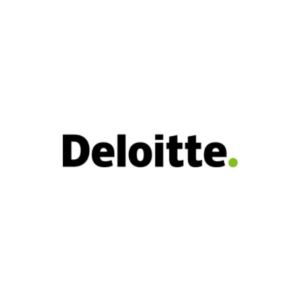 Deloitte Consulting is one of the largest consulting firms with more than 700 consultants and an ambition to be the leading Danish consultant in IT strategic consulting. Globally Deloitte has more than 68,000 professionals.
Deloitte and its subsidiaries work in four key business areas-audit, risk and financial advisory, tax, and consulting-with the ability to combine elements of those groups to address clients' needs. Deloitte was recently ranked by Gartner, IDC, and Kennedy as the leading consulting firm globally for the fifth consecutive year, named a leader in business transformation consulting by Forrester, and serves 90% of Fortune 500 companies.

Deloitte Consulting prides itself on being the "go-to" organization for solving a client's most complex, critical challenges – from initial strategy design through implementation. Its teams provide global experience and local knowledge to help clients focus on the big picture and succeed in any public or private business environment. The practice is organized into three service areas: Human Capital, Strategy & Operations, and Technology. Across these service areas, professionals serve clients in a number of industries, including consumer and industrial products; energy and resources; federal and state government; financial services; life sciences and health care; and technology, media and telecommunications. The organization focuses on demonstrating leadership and making an impact on the issues that clients are-or will be-facing. Through that leadership, Deloitte Consulting helps instills in clients the confidence to make effective decisions and take the preferred path for their organizations.
Culture
Deloitte is fully aware that its employees are their brand. They represent everything the company does and everything they are. Its employee's ideas are changing the world and redefining what it means to be a professional services firm. Deloitte employee's work hard and the firm reward them with a culture of recognition that offers compensation, flexibility and extraordinary experience.
Deloitte culture is built on the collaboration; flexibility and innovation we need to perform at the highest levels and exceed client expectations. It recognizes that the days of one set path to career success are long over. The company is giving its employees the flexibility and choice to customize and build the career and life they want.

The firm's employees generally agree that the connections they make during their stay are a big reason they come to Deloitte and one of the main reasons they stay at Deloitte. Deloitte has become notorious for their 'Deloitte After Dark' events which has attracted both current and potential employees to network in their offices.

What makes it the best company to work for?
One of the things that we most often hear to be a great thing about Deloitte is that it is a pleasure to be around extremely skilled and passionate people every day. The impact we make is not about what we achieve as individuals, but how we enable the people around us to be their very best. In other words: the best about our community is the people – people who want to help you succeed.
We care about your professional and personal development. It is essential to us that you evolve in a direction that truly motivates you, and that you get all the tools necessary to keep up with the interesting challenges as well as the great opportunities that Consulting will offer you.
"I have been asked to describe the thing about my job that I love the most. There is actually a few, but Deloitte's view on development is, in my perspective, truly fantastic.
In Deloitte, I have had more opportunities to pursue my passions than I had ever imagined. I am mind-blown by being part of an organisation that so actively helps me make my interests lead my career and professional development – it has given me the opportunity to work with start-ups, a new technology like blockchain and strategic transformation projects at the highest level of some of the biggest organisations in Europe." // Jon Brandt Jacobsen, senior consultant in the service line Business Model Transformation.
What are you working on getting better at?
We are convinced that diversity in both mindset, experience and educational background is key if we want to deliver the best solutions to our clients and fully play to our strengths as a community. Today, Deloitte has the potential to attract and retain even more bright female minds that can contribute to that diversity.
Fun Fact
We have a club (the Club for Engaged Consultants), which is divided into 27 smaller clubs with different subjects. We have clubs dedicated to (wine) tasting, e-sports, scuba diving, hunting and much more. In other words: we are truly engaged in creating clubs that unite us as a community.
Deloitte Consulting has posted
1

jobs
Deloitte Consulting
Deloitte is one of the largest Danish Consulting companies with a focus on operations consulting
Rank: 12
Company size: 501-1000
Global: Yes

Graduate programme: Yes
Intern programme: Yes