I took my BSc and MSc at Copenhagen University studying Economics. I ended up specialising in finance and wrote my Master thesis in "Macroeconomic linkages and interest rate modelling". I had part time jobs while studying and worked at Nykredit, Finanstilsynet, Ramboll and as a Teaching Assistant in Statistics at the university.
➔  Hiring!  Novozymes are hiring graduates right now. Click here for more details on the programme.
My background is quite classical and often paves the way to a career within the financial industry or in one of the Danish ministries.  However having spent time in Hong Kong as an exchange student I got a lot of new input and figured out that I probably wanted to go a different way than most of my peers. I would like to work for a company that actually produces a tangible product that people are using. 
What attracted you to the company and their graduate programme?
As mentioned above then a key thing for me was to work in a company that was focused around real world products. Ideally products there were used by a lot of people and also something that benefited the world. On top of that I wanted to work for a global company where I had the opportunity to gain international experience. Novozymes ticked all of those boxes and I really liked the experience during the interview process.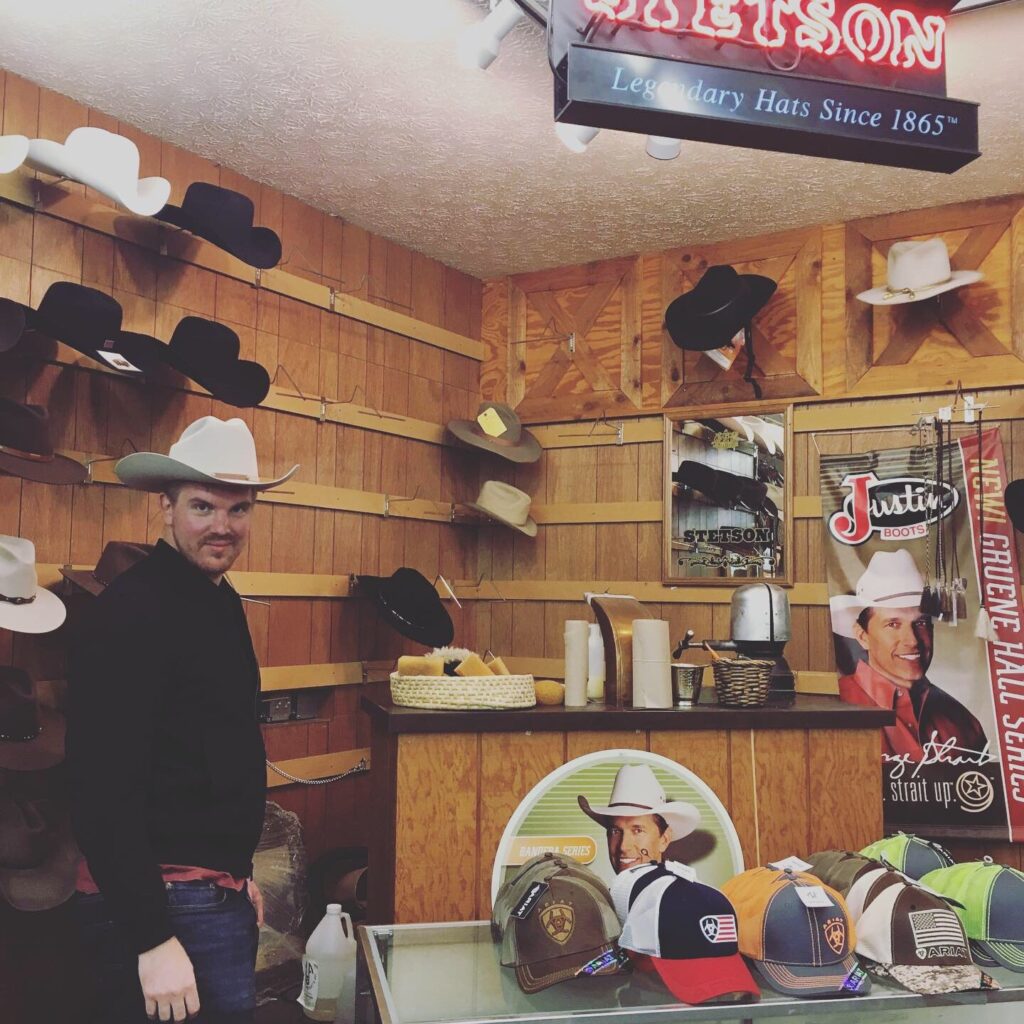 Above is Peter trying Cowboy hats in the US
What does a typical day look like?
There are a lot of different rotations so it's difficult to say what a typical day will look like.
I would say that roughly then you are either part of driving a project – so managing stakeholders, making different kinds of analyses, preparing presentations etc. or you might be responsible for specific processes that need to be run operationally somewhere in the business. What's true for both roles is that you have a high degree of responsibility and learn a lot. 
It's important that you are comfortable with some degree of ambiguity and change as you will have a lot of experiences in a short period of time. You will have several managers during the programme and work on a variety of projects. Personally I like change so I have really enjoyed the fast pace and the ability to experience a lot of impressions in a short period of time,
What has been the most exciting project you have worked on so far?
Personally then I've really enjoyed the roles where I have been close to our business in the markets. I have had a few roles where I have been working kind of as an advisor or consultant to the management team. In North Carolina in the US I did  business cases around how we plan our supply chain. 
It was a great learning experience professionally working in our office in the US, but also I had an amazing time personally exploring Raleigh (capital of the state) and other parts of the US. 
What has been the biggest challenge as a graduate?
You need to be ready mentally for a lot of change during the programme. You will have many rotations which means that you will leave teams that you have just gotten to know to work on something else. This can be tough, but it's also what makes the experience so great I think. It's up to you to be clear on what you want to get out of the programme. The company is very willing to help you, but you need to reflect on it yourself, speak up and dare to lead, also regarding your own development .
An advice I would give is to try and find something where you can add value to the team or project really fast. Something where you have expertise that can be leveraged quickly. In this way you will be adding value fast while also getting integrated into the team and projects through the rotation. You might be good at for example Excel, Presentations or other hard skills where you don't need a lot of context/knowledge of the team to be able to add value. 
What has been a thing that has surprised you about the programme?
How truly international the company is. Once you start in Novozymes and you get to travel around to see different parts of the organisation you really understand how global the footprint is, but also how complex our products are. 
Below are the graduates of 2019 with CFO and former Graduate Lars Green
Did you apply for multiple programmes?
Yes, I did apply for other programmes and also managed to land some offers. I really liked the way their programme was structured at Novozymes and it was a relatively easy choice for me to accept the offer from them. 
Fun fact about yourself?
When I was working in the US I needed a car to get around. Being from Jutland I got my drivers licence at age 18, but haven't used it since. I ordered a small Japanese car, but ended up getting the biggest truck I have ever seen in my life. Apparently Novozymes was a gold member and therefore I got an automatic upgrade. It was a Jeep Grand Cherokee.
➔  Hiring!  Novozymes are hiring graduates right now. Click here for more details on the programme.